A Season To Remember At BYU-H

By
.(JavaScript must be enabled to view this email address)
Wednesday - February 18, 2009
|
Share

Del.icio.us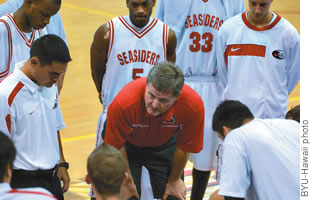 Ken Wagner has BYU-Hawaii ranked No. 3 in the country
Earlier this month, Ken Wagner suffered a black eye. But, no, it wasn't from an errant elbow thrown in one of his intense men's basketball practices at BYU-Hawaii. And, no, it didn't come from wrestling on the living room floor in Laie with his four children.
This black eye came from a medical procedure to remove a small bit of potential skin cancer - and even though it looked bad, it was nothing serious at all.
It was also probably the only blemish on an otherwise nearly perfect basketball season for Wagner and his BYU-Hawaii Seasiders this year.
"We expected to be good this season with the players we brought in and those coming back," Wagner says. "We just didn't know how good. Fortunately, it's played out like it has."
Wagner always is soft-spoken and modest in his delivery, but he truly has a great deal to crow about - especially this year. The Seasiders started the season in the national rankings and have steadily climbed the ladder until last week when they reached the No. 3 spot in the nation - the highest in school history.
Currently, BYU-Hawaii ranks No. 1 in the nation (among NCAA Division II schools) in both scoring and rebounding. In two successive games earlier this month, they hit the century mark - defeating previously undefeated Dixie State, 100-79, and then Grand Canyon, 101-81. They also have scored 100 or more points this season against Western New Mexico (108), Academy of Art (107), Chaminade (105), Notre Dame de Namur (104), and a whopping 122 points against the New Zealand Saints in an exhibition contest to start off the season.
All those triple-digit outputs have the fans in Laie chanting, "Ice cream, ice cream!" in the final minutes of nearly every home game. That's because BYU-Hawaii gives away free ice cream to students and fans after each game in which the Seasiders reach the 100-point plateau.
"When we first came up with the idea (several years ago), I don't think the food service expected us to go through so much ice cream," Wagner says. "I'm not sure whether they're happy about that or not."
But Wagner is certainly happy with the play of his team. Led by All-American candidate and PacWest Player of the Year Lucas Alves, who is averaging more than 20 points a game, the Seasiders seem to score in bunches. It's not uncommon for them to put together a run of 15-20 points in just a few minutes.
Alves, with his dunking ability and deft outside shooting touch, is the catalyst, but other Seasiders - most notably Trenson Akana, Jermaine Odjegba, Marques Whippy, Nate Sims, JR Buensuceso and Jet Chang - have stepped up their games to new heights as well.
"I think that BYU-Hawaii should always be one of the best teams in the PacWest," Wagner says. "And since the conference is one of the best in the country, it follows that we should be among the best teams in the nation. I really think we've positioned ourselves with some of our young players in the program to be in position to contend for the conference championship regularly."
So that's the first goal for Wagner this year - win a PacWest title. With all the success the program has had, the Seasider coach and athletic director has been frustrated in that department the last few years, finishing in the runner-up spot four years in a row. Not since the 2003-2004 season has BYU-Hawaii won the outright title. Ironically, that was also the last time the Seasiders led the nation in a prominent offensive category - that time in field goal percentage.
This year's team also shoots the ball extremely well, and they also love to run. You probably won't see a better fast-breaking team anywhere in the nation.
It's all part of Wagner's plan to put an exclamation point on an outstanding season. With more than 360 wins and counting in his brilliant 19-year coaching career at BYU-H, he's the winningest college basketball coach in Hawaii history. Add to that the 126 wins he secured as a junior college coach at Dixie more than two decades ago, that adds up to nearly 500 career victories.
Yes, it's safe to say with BYU-Hawaii's Ken Wagner on the sidelines, there's very definitely something to cheer about in Laie - with or without the black eye.
Most Recent Comment(s):