A Special '60s Football Reunion

By
.(JavaScript must be enabled to view this email address)
Wednesday - August 04, 2010
|
Share

Del.icio.us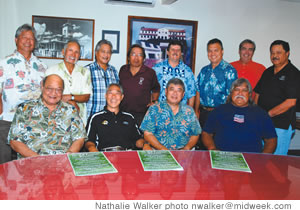 (front, from left) John Kauinana, Kaimuki 1964; Neal Takamori, McKinley '64; Melvin Ing, Punahou '68; Joe Gomes, Farrington '66; (back) Bruce Wong, Kamehameha '67; Faxon Hanuna, Roosevelt '62; Buddy Los Banos, Saint Louis '68; Stan Cadiente, Farrington '66; Rick Ornellas, Damien '66; Walter Rodriguez, Farrington '66; Gordon
It was the school year of 1966 and 1967. LBJ was in the White House. The Vietnam War was escalating. The Beach Boys were coming of age on the radio and Gilligan's Island was finishing up its third and final season on TV.
In Hawaii, John Burns was our Democratic governor, Neal Blaisdell was the Republican Honolulu mayor and, as they worked together during a construction boom, there were so many new buildings going up in Waikiki that people joked that our state bird was the construction crane.
Meanwhile, a brand new television satellite brought local sports fans their first-ever live football telecast when Michigan State battled Notre Dame to a 10-10 tie, with three Hawaii boys playing for the Spartans. And in high school sports on Oahu, the ILH ruled supreme.
Ten schools - five private and five public - battled it out each week. Farrington, McKinley, Roosevelt, Kaimuki and Kalani from the public schools, and Punahou, Saint Louis, Kamehameha, Iolani and Damien from the private schools. The OIA was just a small rural league made up of so-called "country schools."
"We played in a special time in the history of Honolulu Stadium, the old Termite Palace (two years before the league split up)," recalls Buddy Los Banos, who was the starting quarterback for the Saint Louis Crusaders that year.
It also was a year in which Saint Louis became the last team to win what is called the ILH Triple Crown.
"We won all three major titles - football, basketball and baseball - it hasn't been done since," Los Banos says.
"Before then, we had been known as pretty much a basketball school because of coach Walter Wong," he says."But in that span of a few years, Saint Louis had Jim Nicholson, Glen Hookano, Roddy Brilhante, Howard Dunham, Ray Lum, Sandy Sobra and many others. Back then, we were given scholarships, but we all had to play two sports."
It was the junior year for Los Banos in 1966-'67 and he recalls a key play in the football season that set the stage for what was to come.
"We're playing Kamehameha in Honolulu Stadium and the game is really close in the fourth quarter. In the game, the great Karl Lorch (a future NFL star) was monstering Jim Nicholson (another future NFLer) on every play. It's fourth-and-21 with about three or four minutes to go, and I roll out. I see Jimmy across the middle, but I got to get it over Karl, who's about 6-foot-4, and luckily the ball just goes over his hands and Jimmy makes the catch for a 26-yard gain, setting up first and goal. We scored and went on to win the game, and that was the turning point of the season. Jimmy kept telling me it was the pass of the year."
Los Banos looks back at that era of sports with fond memories. He's a longtime physical therapist in Kahuku who turns 60 this month. He's part of a group of local athletes from the 1960s who saw the excitement generated in last year's reunion of players who played in the 1940s and '50s. He and friends from the next decade immediately set their sights on planning what they are calling the '60s ILH Football Reunion. It's set for the Saint Louis Clubhouse Oct. 2 with tickets priced at $40 apiece.
"The whole '60s decade had so many great players," he says. "Charlie Wedemeyer, Rockne Freitas, Bob Apisa, Mike Chun, the great Farrington team with Stan Cadiente - there were so many outstanding players. I know I played against so many tough guys."
He hopes the reunion will bring back old memories and bring together former competitors who can relive those old glory days.
"It will be a great time to talk story and renew old friendships," he says. "I'm looking forward to the camaraderie - and tell everyone we want to see the public-school guys, too, and players in sports other than just football."
For more information on how you can be a part of a special night, contact Buddy Los Banos at 293-9885 or e-mail him at .(JavaScript must be enabled to view this email address).
"These reunions have rekindled a great spirit in local sports," he says.
Most Recent Comment(s):