A Sports Fan's Excellent Road Trip

By
.(JavaScript must be enabled to view this email address)
Wednesday - October 22, 2008
|
Share

Del.icio.us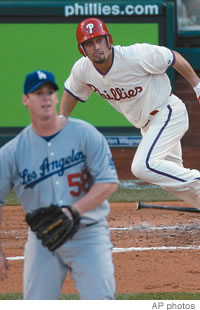 Shane Victorino helped lead Philly into the World Series
Pardon me, if I do a little "fan-bragging." That's a word I just made up after going on a dream trip as a sports fan.
My job as the PacWest commissioner allows me to travel around the country to attend meetings and championship competition, and promote and advocate for the Pacific West Conference. But sometimes along the way I just get to be a sports fan.
On a recent trip, I was able to stop off in my boyhood home of Orange County in Southern California, and I couldn't resist the chance to attend a USC-Arizona State football game on a Saturday and a Dodgers-Phillies playoff game on a Sunday. (Then, it was back to work on Monday.)
Just being at these sold-out venues was an experience any fan would love - regardless of whom they are cheering for.
At the L.A. Coliseum, I marveled in the sea of Maroon and Cardinal and Gold, as both the Trojans and Sun Devils have virtually the same colors. With a crowd of more than 90,000, it meant arriving at the USC campus nearly four hours before kickoff - but it was well worth it, as the tailgating experience was spread out all over both the Coliseum and campus grounds - a geographical area of a few square miles. L.A also brings out its share of movie stars and celebrities. On the way into the stadium, my dad was talking about meeting Sally Field at a recent sporting event when suddenly Henry "the Fonz" Winkler appeared in front us. We said aloha to him and tapped him on the shoulder and he gave us an enthusiastic greeting as a response. (No, he didn't say "AAYYY!")
As for the game, the Trojans shutout the Sun Devils 28-0, and one of the stars for the defense was Hawaii's own Kaluka Maiava, a 6-foot, 230-pound linebacker from Baldwin High School and Wailuku. Maiava is a former two-time Trojan Special Teams Player of the Year and now a starter in his senior year. Another Hawaii native for USC is a red-shirt freshman at center - Punahou graduate Abe Markowitz of Hawaii Kai, last year's silver medalist in the state high school discus and shot put championships. Markowitz proudly wears No. 50 on the sidelines, a salute to his beloved home state.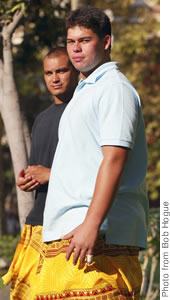 Kaluka Maiava and Abe Markowitz in their USC lavalavas
A day later, I was at Dodger Stadium. I owe a huge mahalo to Hawaii attorney/sportscaster Jeff Portnoy for tickets to the NLCS game. Not only did I enjoy a thrilling experience as part of the largest crowd in that stadium's storied history, but because of Jeff's connections, I got a chance to hobnob with some of the elite boosters at the Stadium Club level and also get seats right behind home plate.
The game also turned into a most memorable affair for the Portnoy clan, as Jeff's daughter scurried for and then captured a foul ball that landed in the seat right in front of her. I'm told that the much-coveted baseball will now join Jeff's huge sports collection in his downtown Honolulu office.
I can assure you that attending Major League games is always a big thrill for anyone from Hawaii - and I ran into other Hawaii fans at the ballpark, too - but it's even bigger when championship stakes are on the line. Just watching the exploits of Manny Ramirez and Shane Victorino up-close and personal was something I'll never forget.
Obviously, Ramirez doesn't have any local ties, but he's become a huge fan favorite all over Southern California. Fans were wearing so-called "Manny wigs" or long, black dreadlocks under their ball caps all over the place. It was quite a sight.
Meanwhile, Victorino's prominence as one of the most exciting players in baseball rose several notches throughout the game and throughout the entire post-season. The Maui native from Saint Anthony High School hit big home runs and made spectacular catches, and used his speed and guile to energize game after game.
He now joins the likes of Sid Fernandez, Benny Agbayani, Mike Lum and others as a Hawaii native who will live forever in local baseball lore.
I'm excited to say I was there to see him in person. It was truly a dream come true as a sports fan, and a trip I'll never forget.
Most Recent Comment(s):