A Statue For UH's Title IX Pioneer

By
.(JavaScript must be enabled to view this email address)
Wednesday - February 22, 2006
|
Share

Del.icio.us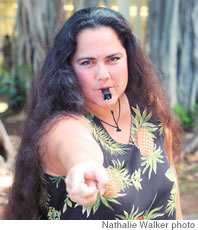 Alicia Maluafiti: good call on a Donnis
Thompson sculpture
Alicia Maluafiti remembers a time when she couldn't play sports with other girls.
"I had to play on the boys' baseball team," she says. "We didn't have any all-girl teams."
How times have changed. Now thousands of girls play interscholastic athletics in a variety of sports at a variety of levels. In fact, Hawaii has become a leader in producing outstanding female athletes and female athletic teams.
Maluafiti, who grew up in Oregon, but who later moved back to Hawaii to live with her grandparents in the Hawaiian Homelands of Papakolea, has seen the positive changes over the years. In the late 1980s, along with former UH female athletes Jill Nunokawa and Nahaku Brown, Alicia became one of the first females to officiate both men's and women's local basketball games.
"I don't get as much grief now; the guys all know me," she says. "But it's still a challenge. It's hard to recruit officials; it's even harder to recruit female officials."
Maluafiti, who is the niece of legendary local basketball referee Koko Mahukona, is now the secretary of SAHBO, the State Association of Hawaii Basketball Officials. She says she constantly feels she has to remind young girls of the opportunities many now take for granted.
"Most young women today have no idea how far we've come," she says. "They've never experienced what we went through."
Maluafiti says much of this success is up to women like Dr. Donnis Thompson, the first director of Women's Athletics at the University of Hawaii.
"Donnis virtually founded women's collegiate athletics in Hawaii," Maluafiti says. "She was one of the individuals who inspired Patsy Mink's authorship of federal Title IX legislation, the law that helped achieve equality for women athletes."
Gender equity changed the face of college and high school sports all over the country. And Maluafiti notes that Hawaii was at the forefront of the movement.
"Without Donnis, many of us would still be questioning what our roles would be," she says. "She helped open the door to making Title IX a reality."
So now, Maluafiti has joined women's sports advocates and other community leaders to honor the great women's sports pioneer for all time. A bronzed sculpture of Thompson, who now lives in retirement in California, has been commissioned. Upon completion later this year, the sculpture will stand in the UH Stan Sheriff Center and later at the new UH Hall of Legends.
The piece of art is currently being sculpted by nationally renowned artist Jan-Michelle Sawyer, a former professor at UH and a longtime friend of Thompson. The sculpture will feature Thompson holding up copies of Title IX documents in one hand while resting a volleyball in her other hand.
"The bronze statue is a living legacy to perpetuate her contributions," Maluafiti says.
She notes that tax deductible donations are still needed to finish this important project. More information is available by contacting her at .(JavaScript must be enabled to view this email address) or by mail at The Donnis Thompson Sculpture Project 1493 Halekoa Drive, Honolulu, Hawaii 96821.
"People everywhere embrace Donnis," Maluafiti says. "This project is being received so positively and by both men and women. Donnis made incredible strides for all of us. Her statue will be a reminder that the issue of gender equity still exists."
Most Recent Comment(s):