A Stroke Can't Stop McLachlin

By
.(JavaScript must be enabled to view this email address)
Wednesday - July 16, 2008
|
Share

Del.icio.us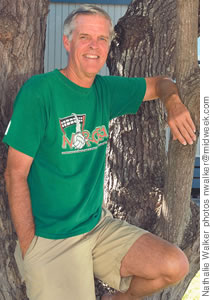 Chris McLachlin: You can't keep a good man down
In the 20 years I've lived in Hawaii, I've met many outstanding individuals. Certainly, one of the tops on my list of favorites is Chris McLachlin.
The affable, positive, enthusiastic coach/sports commentator/teacher retired from Punahou this past June after 37 years there. He had plans to travel the world, to hike the Andes and so much more. He was in fantastic shape and raring to go.
Then, inexplicably, Chris suffered a severe stroke this past January while visiting friends in Northern California. He says now it was a "miracle" that it happened right in front of someone who was a stroke victim herself. Because the friend recognized the stroke signs, McLachlin was raced to the hospital immediately. The fast attention may have saved his life.
This past week, I sat down with Chris on the lawn outside his Manoa home. It was great to see him. And I have to tell you that he looks terrific. "On the outside, I'm just fine," he jokes. "If you walked past me right now, you wouldn't notice a thing."
It's been six months now since the stroke and, yes, he is doing very well. He still can't drive, and he says he's still learning to cope with all the daily medications. And unlike many stroke victims, his speech is strong despite occasional moments in which he says he phases out. But those occurrences, called aphasia, happen with much less frequency.
"I just did my 30th interview,' he says proudly. The interviews aren't about stroke recovery but about presidential politics. Chris was the head basketball coach for Barack Obama at Punahou, and he's been interviewed over and over about the experience by reporters all over the world.
He says he told one reporter that he hopes Obama keeps his promise to put a basketball court in the White House should he be elected.
"I told him to tell Barack that
I want to be there when it's ready," he says, laughing.
Because of the stroke, he says he really has to concentrate during those interviews. Stamina is also an issue.
But, he says, he's getting stronger.
"It will take at least a year," he says of the recovery process. He says he hopes that his experiences can help others understand the risk of strokes and heart attacks - currently the leading cause of death in the U.S., according to the American Heart Association. He wants people to recognize the warning signs and what they should do in case of an emergency.
"Remember 'S', 'T', 'R' - the first three letters of stroke," he says. "Smile. Talk. Raise your arms." Then, of course, get medical attention as quickly as possible.
Chris says there has been an outpouring of letters, e-mails, phone calls and personal offerings of love and support.
"It's been overwhelming," he says. "I haven't been able to get back to everyone."
He says he sincerely wants to tell everyone who tried to contact him how much he truly appreciates their thoughts and prayers.
Chris is so concerned about others that during my visit, he made sure we were stocked up with plenty of fruit during our conversation. "Got to eat healthy," he says. That's another message he wants to send along.
Right now, he enjoys spending time with his family. His wife Beth took some time off from her job at La Pietra to help care for him. Eldest son Parker visits regularly in between stops on the PGA Tour. Younger son Spencer is back in town after a year of playing volleyball at Stanford. And daughter Bekka has also been extremely supportive.
So as we concluded our visit, I asked if he still plans to hike the Andes, as previously planned. "Of course," he says. "I just got a chance to watch The Bucket List (the movie starring Jack Nicholson and Morgan Freeman that showcases two aging men with health problems checking off items on their special to-do list). I've got plenty of things still on my bucket list and I'm going to do them all."
Then Chris McLachlin smiles that big smile of his, and I leave knowing that one of my favorite people is doing great.
And that makes me smile, too.
Most Recent Comment(s):