A Super Month For Island Sports

By
.(JavaScript must be enabled to view this email address)
Wednesday - February 09, 2011
|
Share

Del.icio.us
February is a great month for local sports. Fans will have everything from state high school tournaments to big college basketball games, to an intriguing Valentine Day's matchup for those who are romancing the UH basketball program. Plus there are other big events to get ready for.
For those who love great college basketball, Feb. 14 is the next University of Hawaii home men's basketball contest, featuring the Rainbow Warriors against Nevada. Louisiana Tech and New Mexico State will come to town later in the month, as Bill Amis, Miah Ostrowski and company try to battle their way into a good position for the WAC Tournament.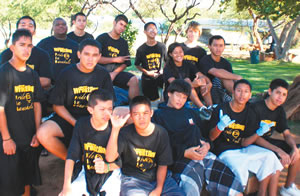 The Nanakuli High wrestling team has a black-tie fundraiser March 16 at Ihilani
In the PacWest, championship contenders Dixie State and Grand Canyon come to Hawaii the last week of the month to take on top island powers Chaminade, BYU-Hawaii, HPU and UH Hilo. That's on top of Chaminade playing at island rivals HPU and BYUH Feb. 9 and 11.
In the high school game, the top teams in the state will be at Stan Sheriff Center Feb. 16-19 for the Hawaiian Airlines Boys Basketball Championships.
If you're a baseball fan, get ready to mark several important dates on your calendar. The University of Hawaii starts its 2011 baseball season in a big way this month. The baseball 'Bows host Oregon Feb. 18-21 (which will again give Duck alumnus and MidWeek editor Don Chapman, also a big 'Bows baseball fan, very mixed emotions), and then tradition-rich Texas Feb. 25-27.
High school wrestling fans will see the best grapplers in the state as they converge on Blaisdell Arena Feb. 11-12 for the Chevron State Wrestling Championships. One coach who's looking forward to the action is Nanakuli's Aika Makaula, a former football and wrestling star from Kalaheo who thinks Golden Hawk Joslynn Kahala-Minczer has a shot at a title this year after winning the OIA West.
Nanakuli has had only two state champions over the years — Ashley Gasper, a three-time champ from 2000-2002, and Jimmie Swann in 1985. Swann is now helping the Golden Hawks staff, and Makaula calls him "a great positive role model," especially for some kids who have come from disadvantaged backgrounds.
Makaula also is hoping to raise funds to help improve Nanakuli's wrestling program, its facilities and "to help build a Hall of Fame to honor Golden Hawks who came before." He has put together a black-tie fundraiser with plenty of great entertainment, scheduled for March 16 at Ihilani. Local companies and sports fans are encouraged to help this needy program by getting more information at .(JavaScript must be enabled to view this email address) om or calling Makaula at 203-3844. February is a great month to get your reservations or make a donation. And if you want to look your best at the event, Celebrity Tuxedos will donate $10 from every complete tuxedo rental to Nanakuli's athletic department.
Finally, for those local sports fans who qualify as military veterans over the age of 55, Hawaii will be the site of the National Veterans Golden Age Games in late May. Feb. 28 is the registration deadline.
"We are encouraging Hawaii veterans to get involved because this will be the first time the games will be in Hawaii," says Marcella Cisneros.
The competition will feature swimming, cycling, golf, shot put, discus, air rifle, table tennis, shuffleboard, bowling and more. For more information or to register, e-mail .(JavaScript must be enabled to view this email address) or call her at 433-0445 by the end of February.
Most Recent Comment(s):