A Swim Star Turns UH Watchdog

By
.(JavaScript must be enabled to view this email address)
Wednesday - June 13, 2007
|
Share

Del.icio.us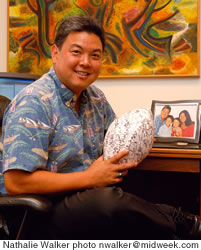 Rep. Mark Takai: it's not personal
with Frazier
Mark Takai is a state legislator by vocation, but by avocation you could call him one of the University of Hawaii's biggest sports fans.
When Takai made headlines in the now infamous informational briefing with athletic director Herman Frazier at the state Capitol last month, it's probable that many people around Hawaii had little knowledge of his sports background. To say the least, that background is impressive.
Takai grew up in Waipahu where he must have found a neighborhood swimming pool to his liking, because by the time he attended Pearl City High School in the '80s, he was one of the top age-group swimmers in the state. At Pearl City, Takai won four state championships and was named a high school All- American in the 100-meter breaststroke.
An excellent student too, he received a nomination to the U.S. Naval Academy.
"I went for the summer, but it wasn't for me," he recalls. "I decided to come home and (eventually) walked on to the swim team at UH."
By the time his four years were finished at Manoa, Takai was a WAC Champion in the 4x100 medley relay and a four-year varsity letter winner. He earned an athletic scholarship that paid his way through school.
"I had a coach tell me (when he was growing up) that I wasn't swimming for myself — I was swimming for an education. I owe much to the University of Hawaii for giving me an opportunity to get that education," he says.
Today he calls himself a "retired swimmer," although he runs for exercise to stay in shape for his duties with the Hawaii National Guard.
As a student Takai also got involved in university politics, as a member of the Athletics Advisory Board for former athletic director Stan Sheriff.
"My relationship with Stan Sheriff was almost like a father and stepson. We were very close," Takai remembers.
When Takai became ASUH president, similar to being elected student body president, he sought Sheriff's approval for a new school mascot. "We hadn't had a mascot in several years,'" he says.
The mascot that the Student Senate approved was a disaster.
"They called it the Pillsbury Doughboy and Marshmallow Head and worse," Takai recalls, laughing. "It debuted at Homecoming 1989. We had a press conference that week and Joe Moore (on Channel 2) just ripped us. We got hundreds of negative phone calls before the game. I went out on the field and walked next to the mascot — I wasn't in the costume — and we were pelted with just about everything. It was horrible."
The mascot was scrapped immediately, but the search for a mascot continued. "What happened next was pretty incredible," Takai says. "I got a donor (to pay off the old costume) and then we had a (new) design-the-mascot contest."
By the next football season, 1990, with Takai now editor of the student newspaper Ka Leo, a more-popular Warrior mascot was OK'd.
Flash forward to 2007 and a grueling four-hours-plus legislative informational briefing where Takai, now a 39-year-old veteran legislator and a former chair of the House Higher Education Committee, peppered current Frazier with questions about the football schedule, budgeting and much more.
"We were getting phone calls, e-mails, letters — people were coming out of the woodwork," Takai says of the days leading up to the briefing.
"The questions we asked were questions that many people wanted to ask. The questions were fair. Some people have questioned the length of the briefing — and admittedly it was way too long.
(But) we need to resolve some of these concerns to help make the university a much better institution."
I asked Takai if this was personal — between him and Frazier?
"No," he says. "Mr. Frazier is a nice guy. I don't have any problems with him as an individual."
So Takai will continue to ask questions, and he hopes and expects to get some answers. "I really care about the university, so much so that I'm willing to ask the very tough questions," he says.
You might say that Mark Takai is back in the water, swimming hard for an education that continues every single day.
Most Recent Comment(s):