A Tribute To Basketball's Pat Tanibe

By
.(JavaScript must be enabled to view this email address)
Wednesday - May 14, 2008
|
Share

Del.icio.us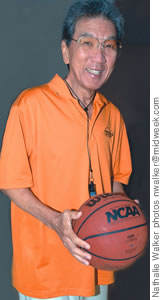 Longtime college basketball referee Pat Tanibe
When the last PacWest basketball game was played this past winter, an era came to an end. But nobody knew it at the time.
When veteran basketball referee Pat Tanibe pulled off the whistle from around his neck after a thrilling finish to the BYU-Hawaii/Chaminade contest, it turned out to be the final college basketball game of Tanibe's long and illustrious career.
After officiating for the better part of five decades, Tanibe is retiring from the college ranks. But he'll still be in the game - as the assignor of officials for the PacWest. And he's not totally giving his whistle up; he'll still continue to officiate high school and recreational games.
"It's time to close that part of my career," he says, "but I'll still be helping with the high schools. I like to give (the younger officials) instant feedback. I need to stay around as long as I can run."
Tanibe, who turns 70 years old next basketball season, has been running up and down the court with stripes and a whistle since the age of 21. Over the years, he's officiated innumerable big-time college games, including the days of the University of Hawaii's Fabulous Five, the Aloha Classic all-star games, the star-studded fields of the old Rainbow Classic, and perhaps his most famous game - the Virginia/Chaminade contest, dubbed the Greatest Upset in College Sports History.
"There were three officials for the game," he remembers. "We had two local guys and Virginia had a guy who traveled with their team. It was a very exciting game,
but we had no idea how big it was going to become. A couple of days later, when people started calling it the biggest upset in NCAA history, it was like 'Wow!'"
Tanibe's officiating career began just a few years after he graduated from Iolani School in 1957. He had been a basketball player back then, and he continued to play after joining the Air Force. Around 1960, while stationed in Japan, he realized he could make a little extra spending money if he signed up to be a referee.
"We made three bucks a ball-game and that was enough to go into town, buy whatever you wanted and go out," he recalls. "I've always said that the greatest three things about officiating is that you get a real good run, it keeps you mentally alert and you get compensated a few dollars."
By the mid-'60s, he opted out of the service and came back home to start a longtime sales career. But he had the officiating bug and he never passed up a game.
"We had a good military service league then. Those games were sometimes better than collegiate ball," he recalls. "I remember (NBA players) playing in that league. One name that stands out is Terry Dischinger (who played for Detroit and Chicago and who was the NBA Rookie of the Year in 1963)."
Tanibe credits the father of Lt. Gov. Duke Aiona with elevating his skills on the court.
"Jimmy Aiona, Duke's dad, was our supervisor of officials - he was one of the pioneers here. He made me a good official."
Over the years, Tanibe has become a mentor himself, as he continually looks to recruit new and younger officials. "It's harder now to recruit than in the old days," he says. "Perhaps it's the harassment you get from coaches and fans. You have to have thick skin to overcome that adversity."
Tanibe has learned that there are more important things in life than worrying about what someone is yelling from the basketball stands. In recent months, he's spent a great deal of his time caring for his 49-year-old son, Carl, who has cancer. "He's experienced a lot of pain; it's been a struggle, but he's been feeling better," Tanibe says.
The veteran official has learned some great lessons during the ordeal.
"I now realize that life is so short," he says. "I know that my attitude toward people has changed tremendously. I think being a caretaker of someone you love makes you a better person."
For nearly 50 years, Pat Tanibe has been making all the right calls on the court. For all his hard work - and for the way he cares for his family, athletes and up-and-coming basketball officials - we salute him.
Most Recent Comment(s):