A Visit With Billy Blanchette

By
.(JavaScript must be enabled to view this email address)
Wednesday - May 20, 2009
|
Share

Del.icio.us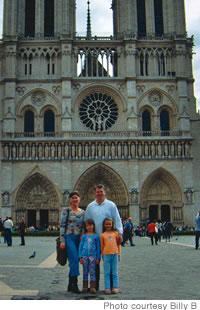 Billy Blanchette, wife Kendra, daughters Jackie and Emma at Notre Dame
The names just rolled off Billy B's tongue, almost without hesitation: "Scott Craven, John Viela, Randy Vollmer, Corey Ishigo, Steve Otani, Levon Largusa, Scott Karl, Brady Perreira, Matt Apana, Moku Paiva, Greg Nealon, Franz Yuen, Kenny Harrison, Harold Cabbab, Derron Moreland, Todd Takayoshi ... I'm sure I'm going to forget someone. We were just so deep."
Very deep and very talented. These were names of many of Billy B's team-mates during the remarkable early '90s period of Rainbow baseball. When the Rainbows take the field this week for the WAC Tournament in Manoa (May 21-24), it will mark the first time Hawaii has hosted the conference tourney since the incredible hosting stretch from 1988 to 1992.
When I called Bill to reminisce, I was delighted to hear his phone message. "Billy B," it said.
Billy B, synonymous with Billy Ballgame - the heart and soul of the Rainbows of the early '90s - aka Bill Blanchette, former WAC Most Valuable Player and University of Hawaii All-American as a pitcher and first baseman.
"Sometimes, it seems like only yesterday," he says when I ask about the 17-year span between his senior year in 1992 and this year's WACtournament. "Sometimes, it seems like a different lifetime altogether."
Blanchette is now 38 years old and an air-traffic controller based out of Sacramento, where he lives with wife Kendra - his college sweetheart from his days as a baseball 'Bow- and his two daughters, ages 8 and 10. "We play kick-ball, Frisbee, whatever they want," says Billy B, who also says he stays in shape by playing in a Sunday baseball league.
Back in those great baseball days in Manoa, Blanchette says the atmosphere was magical, almost electric. "It was before the Stan Sheriff Center was built," he says, explaining Hawaii baseball's immense popularity. "I think we sold out almost every game. We were on television all the time, and the TV, radio and newspaper reporters were so supportive. And the fans were amazing. The games seemed like events."
The Rainbow team was equally amazing. "We could play a right-handed lineup or a left-handed lineup," he says. "We also had great friendships, and hung out together after the games."
Blanchette says he still stays in touch with Takayoshi, his catcher from the '91 team, who is now a roving hitting instructor in the Angels organization, and with Nealon, who is a postman in California. "The distance makes it hard," he says.
Blanchette's rise to fame as a Rainbow baseball player came almost by accident. He was a walk-on to the program after graduating from Punahou and then transferring from Pepperdine after his freshman year. "I'd heard so many times that I couldn't play that I started to believe it," he says.
But coach Les Murakami was delighted to have him and offered a fresh start to his college career. Then, one day in 1991, as he prepared to take his starting role at first base, his baseball life took an unlikely turn. "Coach Les came to me and said we were short on starting pitchers against the University of Washington, and he wondered if I could pitch the Sunday game and give him three innings. I told him I could try," Blanchette recalls.
As fate would have it, Billy B pitched into the ninth inning and the Rainbows won that game. "That was the moment I thought, for the first time, that I could be a good college player," he says. As a memento, he still has the baseball from that first pitching victory. It sits next to the TV on his living room mantle. "It's a memory jolt for me. It taught me you could tear away the mental blocks and not hold yourself back," he says. "You can overcome any obstacle."
After that win, Billy B never lost another game that season, going an amazing 14-and-0 while also hitting over .300 when he played first base. By the end of the season, Blanchette had secured many personal honors, and Hawaii won the WAC tournament and went to the NCAA regionals. The next year, 1992, after another great conference and tournament run, they made the regionals again.
"I really thought we had a national championship caliber team," he recalls.
"It was a blast," says Billy B.
A blast of new memories begin this weekend at Murakami Stadium.
Most Recent Comment(s):