A Weekend For Athletes In Kilts

By
.(JavaScript must be enabled to view this email address)
Wednesday - June 14, 2006
|
Share

Del.icio.us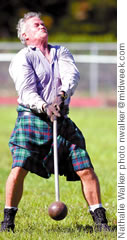 Larry Phillips prepares to
throw the hammer
With apologies to poet Robert Burns and all my dear departed Scottish ancestors (my grandfather was a McLachlan; my grandmother a McNair), something "ba'hap'n to thee" Scottish Festival and Games this past spring.
"We had to cancel it on April 1-2 because of the (so-called) '40 days and 40 nights of rain,'" writes Mary Peddie of the Hawaiian Scottish Association in an e-mail to MidWeek editor Don Chapman. (Don is a proud Scot himself. His great-grandfather was a MacRae; his great-grandmother a MacKenzie.)
Ah, but the Scots can't be chased away by a wee bit o' rain.
Thus, the rescheduled Scottish Festival and Games are set for later this month, on the weekend of June 24-25 at Kapiolani Park. The athletic director for the Games is 57-year-old Larry Phillips of Wahiawa.
"I've been coming over (from California) to represent the Henderson Clan (in the Games) for over 10 years," Phillips says. "This past year, we moved to Hawaii."
Phillips - whose Scottish heritage goes back to the days when the Hendersons were the bodyguards for the ruling McDonald clan, plus he's a descendant of the famous Gordon Highlanders - says that the Scottish Games are popular not only in Hawaii (where the Scots' presence in Hawaii goes back 200 years), but all over the Mainland. It's possible you may have seen some of the unique events over the years on worldwide television.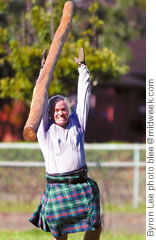 Phillips gives the caber a toss
Events like the Braemar stone throw, the caber toss, the hammer throw, and the Kilted Mile Race set these games apart from other athletic competitions.
"When the Scots lost (a war) to the English several hundred years ago, they were stripped of the right to bear arms," Phillips says. "So legend has it that the Games were created to keep our men in fighting shape by using (everyday) objects."
For example, the Braemar stone "is named after the town," Phillips says. "It's a rock of about 26 pounds that could be found in the creek bed. (In competition), you throw it like a shot put. Some of the pros can toss it more than 30 feet."
Then, there's the famous caber toss, where competitors flip what looks like a tree trunk.
"It's not a log or a smooth tree; it still has its bumps and knots," says Phillips. "It's shaped into a pole and tapered at one end, usually about 8 to 10 feet long. But I've tossed cabers that were over 21 feet in length."
The object is to hold the caber straight up in the air and then flip it a full 360 degrees. "You're judged on accuracy," Phillips says. "It's hard."
The men's events (for which a $25 entry fee is charged) are scheduled for Sunday, while the women take center stage on Saturday. Included among the so-called "housewives events" are the skillet throw and the rolling pin throw. "We have a lot of audience participation (because the events on Saturday are free)," Phillips says. "One of the most popular events is the haggis toss (where women toss baggies of haggis-like substance toward a frying pan.)"
And then there's the Kilted Mile Race, scheduled for Saturday around noon. "It's for everyone, as long as you wear a kilt," Phillips says. "We have some on hand and let the participants borrow them if they need to."
"Don't worry. They're clean," he laughs.
Phillips says that anybody can sign up and participate, even if they have no Scottish heritage at all. And of course, spectators are welcome even if the only Robert Burns poem they know is Auld Lang Syne.
"It's fun for everyone," he says. More information is available at ScotsHawaii.org. Or you can call Larry or his wife Jackie at 621-6622.
May the power of the kilt be with you.
Most Recent Comment(s):