A Whirlwind Football Weekend

By
.(JavaScript must be enabled to view this email address)
Wednesday - September 14, 2011
|
Share

Del.icio.us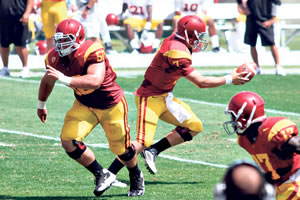 Abe Markowitz, USC first team left guard, pulls left as QB Matt Barkeley prepares to hand off to running back Amir Carlisle at the Trojans final scrimmage Aug. 21. Barry Markowitz photo
"It was an awesome trip!" Kale Ane tells me a day after his Punahou football team returned from a five-day excursion to Southern California earlier this month.
In a span of about 100 hours, his team visited the University of Southern California and University of San Diego campuses, watched USC football practice and met with Punahou alumni players, attended a San Diego Chargers game, attended a San Diego Padres game, visited the San Diego Zoo, met with a Navy SEAL and played a football game against one of the top high school teams in the southland.
They did all that between Thursday morning when they landed and their departure on Monday, Labor Day. "It was jampacked, for sure," Coach Ane says. "It was heavy fundraising and a couple of years in the planning stages."
One of the first things the group of 65 players and coaches did when they landed in Los Angeles after an overnight flight from Honolulu was to go to USC's morning football practice. "Our guys were thrilled; in awe of the athletes and their speed and athleticism," Ane says.
After practice, the Buffanblu players went on a tour of Heritage Hall, took photos of Tommy Trojan, and met with three key USC gridiron starsKennedy Pola, Christian Tupou, and former Punahou lineman Abe Markowitz.
"I was so excited for the Punahou team to visit our practice," Markowitz says. "The kids got a great spectrum of speakers Christian really gave a fiery speech about playing like a Warrior. I wanted tell them to make the best of all opportunities. I remember buying in to the 'Punahou style' when I came out of Laie and Kahuku I did variety show and football and track, and took advantage of every opportunity the education offered. Now, I'm in college, and I've bought into the 'Trojan Way,' working hard, no excuses and protect the team like it was your family. I told them I came in as a walk-on, worked hard and it led to earning a scholarship. My message was 'be prepared and excel at every opportunity you get'!"
"It was great to see Abe there," Coach Ane says. "He also drove down to our game (Saturday night after SC's afternoon game against Minnesota) along with (former Punahou star) Brett Kan."
"I went from a sea of Cardinal and Gold to a wave of Buff'n'Blue in just 90 miles," Markowitz says. "The sight of my high school colors and coaches brought back many memories. It was great to see the Punahou Alumni and the island support was full bore."
Included in the Mainland entourage were members of Ane's family. "My uncles Danny and David were there with their families," the coach says. "Danny went to Michigan State (like Kale) and David went to USC (like Kale's dad, the late Charley Ane). It was great to see everyone, and for our kids to have a chance to play against one of the best teams and to see everything they saw including the visits to USC and USD."
One of the highlights was a meeting with a local Navy SEAL. "He talked about mental toughness and what it means to sacrifice and protect your country," Ane says.
That talk, along with others from Markowitz and his teammates, seemed to inspire the island football players. Down 7-3 at the beginning of the fourth quarter, they came back to beat powerful Vista High 19-7.
"We wanted to play the best to try and be the best," Ane says. "It was a great trip and great exposure for our kids."
Most Recent Comment(s):