A Whole Lot Of Hooping Going On

By
.(JavaScript must be enabled to view this email address)
Wednesday - December 05, 2007
|
Share

Del.icio.us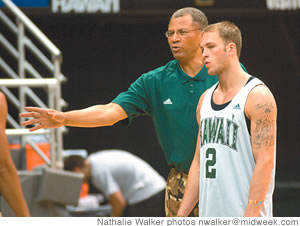 UH coach Bob Nash and Matt Gibson, the team's Energizer Bunny
You can call this column A Little Bit About A Lot of Basketball (or How I'm Getting My Hoops Fix and It's Only Early December):
* I'm impressed with UH basketball coach Bob Nash after his first few games as head coach. He's playing things low-key with no high expectations, except the fact that his team will work extremely hard, even against superior opponents.
* The 'Bows back court tandem of Bobby Nash and Matt Gibson could be one of the highest scoring guard combinations the school has ever had. Nash can play at least four of the five positions on the floor, and Gibson plays the game like the Energizer Bunny.
* If you want to see point production, check out BYU-Hawaii's Lucas Alves, this year's PacWest Pre-season Player of the Year. The 6-foot-9-inch sophomore from Brazil put up 30 points in less than 24 minutes in the Seasiders final exhibition game. Alves was watched closely by at least two NBA scouts in attendance.
* Chaminade's 7-foot center Marko Kolaric of Serbia is also impressive. Kolaric had a double-double (that's double figures in scoring and rebounds) in all three games of the Maui Invitational last month. The Silverswords, who came close against Marquette and LSU, lived up to their "Giant Killers" reputation on the tourney's final day by knocking off Princeton.
* HPU's newest scoring sensation is junior transfer Justonn Smith. The 6-foot-2-inch guard from California led the SeaWarriors with 20 points a game in two of their first four games.
* Tough news for PacWest women's basketball fans. BYUHawaii's Latoya Wily (the former all-stater from Kahuku), who led the conference in scoring and rebounding last year as a junior, will sit out this season after suffering a shoulder injury that needed surgery. She's expected to come back next year for her senior season.
* The Iolani Classic has added a girls basketball division to its prestigious high school tournament this month. Three power-house California teams will join five Hawaii teams for a three-day tournament, Dec. 13-15.
* The Iolani Classic boys division starts immediately afterwards, the week of Dec. 17. Four of the Classic's Mainland teams are in the early season high school top-25 rankings, including Montrose Christian of Maryland (No. 7), Rice of New York (No. 11), Leflore of Alabama (No. 16), and Mt. Vernon of New York (No. 18). * For local high school basketball excitement, a couple of players to watch: Cheynne Lishman of Kalaheo, a tremendous outside shooter who returns for his senior season, and junior Marcus Holyfield of Mid-Pacific, a spectacular athlete who had hoop fans oohing and aahing all through the summer tournaments.
* Moanalua might have the highest-scoring team in the OIA. Greg Tacon's offense allows speedy all-state point guard Stevie Nash to take his game into overdrive. Nash has something in common with Michael Jordan - they were both first cut by their high school junior varsity teams.
* After both suffering season-ending knee injuries last year, the twins Shawna-Lei and ShaenaLyn Kuehu are back for their senior seasons at Punahou. Shawna has already committed to Cal-Berkeley while Shaena is still on several top schools' recruiting lists.
* Two other key all-state girls to watch: high-scoring 6-footer Jamie Smith, still mulling over offers from UH and some top West Coast schools, and Iwalani Rodriques, who transferred from Roosevelt to Kalani, and who has signed with Utah.
* With the switch of girls basketball from the spring to the winter, hoop fans will have the most crowded sports calendar this state has ever seen. On many days and nights, it might be tough to decide between UH, PacWest, or boys or girls high school games. The good news is that there are many outstanding athletes and many outstanding teams to choose from.
Happy hooping, basketball fans!
Most Recent Comment(s):