After 'Bama, UH Is Ready To Win

By
.(JavaScript must be enabled to view this email address)
Wednesday - September 13, 2006
|
Share

Del.icio.us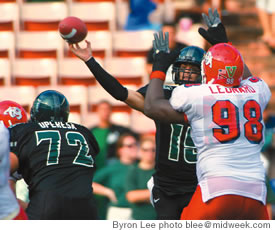 QB Colt Brennan has style, even when upchucking on
the field
Some random thoughts about the University of Hawaii football season opener last week against Alabama and the upcoming home opener this Saturday night (Sept. 16) against UNLV:
* A loss is a loss, or so they say. I don't know about you, but I was extremely proud of Hawaii's comeback against powerful 'Bama on the road. The place - with 92,000 crimson-clad crazies - was unbelievably loud, yet with all that pressure the Warriors took it down to the game's final play. The gutsiness of Colt Brennan never ceases to amaze me. (He even throws up with class. Did you see that last gusher on the sidelines while getting the play call from June Jones? Whoa!) Anyway, I know you're not supposed to claim a moral victory, but after the last Hawaii pass was intercepted at the goal line, the overflow crowd at the sports bar gave the Warriors a big round of applause. (Rarely seen that before - at least in a sports bar anyway.) The bottom line is that it's probably the best I've felt as a fan after a close loss.
* Hawaii receivers could use a good dose of stick 'em. In the bad news department, four drops in the first half against Alabama hurt the Warriors. Hope this doesn't become an issue throughout the season. The good news is that Brennan stuck with them, and the entire receiving corps looked strong in the second half, especially Davone Bess, Ryan GriceMullins and Ross Dickerson. Those three receivers could end up among the nation's best by season's end. My hope is that former Saint Louis speedster Jason Rivers can give the Warriors the deep threat they so desperately need.
* Running game shows promise. If Nate Ilaoa stays healthy, he could be the most dangerous running back we've had since Coach Jones put in the run-n-shoot. He has a great ability to run to daylight and to make tacklers miss. (Love that shovel pass!) And I'm also a great believer in his backup, Reagan Mauia. He gives the Warriors a huge presence when they need it near the goal line. (Just protect the ball, Reagan!)
* I like the 3-4 defense. When was the last time you saw a Hawaii defense come up with key stops again and again? Jerry Glanville's adjusting defense could have been bowled over by a much-bigger Alabama team, but ended up allowing only two touchdowns and 25 total points. Yes, we need more pressure on the passer and a pick or two in the secondary, but that should come with time. Besides, isn't the presence of Leonard Peters at free safety the scariest thing an offense could ever look at? (And who does his hair?)
* So what's going to happen Saturday night at Aloha Stadium? My hope is that UH will take care of the ball on offense and make a few stops on defense, and cruise to an impressive win. That's the optimist in me. The worrier says it could be a shootout with the scoreboard operator really working his scoring machine. (The next two points tell you why.)
* Both teams Saturday night have outstanding quarterbacks. Hawaii's Brennan led the nation in several statistical categories last year and looked extremely strong in the second half comeback attempt against Alabama. What impressed me most was his confidence in the clutch against one of the most storied programs in the NCAA. And what can you say about his seemingly pin-point accuracy? If you take away the drops, I swear one of these games he's going to complete 90 percent of his pass attempts.
* Runnin' Rebs are armed and dangerous, too. UNLV's starting QB Rocky Hinds has been compared - probably prematurely - to former Texas QB Vince Young. Like Young, Hinds is 6-feet-5-inches tall and a former high school track star. Also like Young, he can run as well as pass. Hinds was rated the No. 1 transfer in the nation after transferring from USC after his freshman year.
* Final thought. We'll see a big crowd Saturday night (at a more crowd-friendly Aloha Stadium, or so they say) and a big win for the Warriors. (Nothing's guaranteed, of course, but it should be the first of many Warrior W's on the way to a post-season bowl game.)
Most Recent Comment(s):