Ah Chew Goo, Hoops Magician

By
.(JavaScript must be enabled to view this email address)
Wednesday - March 28, 2007
|
Share

Del.icio.us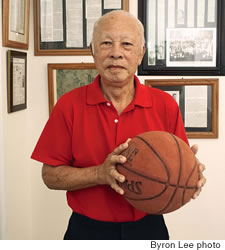 Ah Chew Goo taught his tricks to the
Globetrotters and Pistol Pete
Ah Chew Goo is 88 years old. No, make that 88 years young. Less than two years away from his 90th birthday, the former University of Hawaii head basketball coach is as sharp as ever.
Especially about basketball. "Basketball has been good to me," he says.
And Ah Chew has been good for basketball. Very good.
"To this day, people come up to me and ask me about my dad," says Vince Goo, the former UH Wahine head coach and Ah Chew's son. "They tell me he was the best ballhandler, the best dribbler, the best passer they've ever seen."
Back in the '30s and '40s, the elder Goo was a hardwood magician. He perfected the cross-over dribble decades before it became popular. His circus passes became the stuff of legend.
"I heard it said that the only thing he couldn't make a basketball do is make it talk," says Vince.
The story began in the ball-yards of Hilo where Ah Chew grew up.
"You know how when you're a kid you try to throw a ball against a telephone pole to see if it will come back? If you hit the pole wrong, you have to chase. Well, (my dad) could do it by throwing the pass behind his back!" Vince says proudly.
And Ah Chew's passes always came back. Perfectly.
"I practiced every day," Ah Chew remembers. He was only 5 feet 4 inches tall, so he had to find ways to beat his taller opponents. "The first thing I learned how to do was run. You have to know how to train yourself at different speeds. I could stop, go, cut, (and) I studied the other players."
Many days, he practiced all by himself in a deserted gymnasium. "I learned how to pass with my left hand and my right hand by marking the wall and then I tried to hit that mark," he says. "Then, I did it at different speeds."
Pretty soon, he was putting spin on the ball. And hooking it. And making no-look passes. Old-timers say he could hit a cutting teammate in stride without a defender even realizing he'd been beaten. He led Hilo High to three straight territorial championships from 1934 to '36.
Although he never played college or professional ball, in the days after World War II, his antics caught the attention of Abe Saperstein and the traveling Harlem Globetrotters team.
"I went up to Abe and I asked him if I could put a rubber band on the basketball when I shot a free throw. He said, 'No, you can't do that,'" Ah Chew recalls. "So, I asked him if I could call a time-out and switch the ball (in the huddle) to a flat basketball. He said 'No, you can't do that.'"
The next year, when the Globetrotters returned to Honolulu, they were doing Ah Chew's tricks as part of their regular comedy routine. "He copied them," Ah Chew says, laughing.
In the '50s, he became Hawaii's head basketball coach, a position he held for three seasons, from 1954 to '57. By the '60s, he was one of Hawaii's top ambassadors for the annual Rainbow Classic.
"One day, (former UH coach) Red Rocha called me and told me 'Press Maravich wants you,'" Ah Chew remembers. "Press had been a Marine here and (by the time he became head coach at LSU), he remembered watching some of my passes and my moves. He wanted me to teach them to his players."
One of those players was Press's son, the legendary basketball magician "Pistol" Pete Maravich. Old-timers swear that Pete's magical antics drew a startling similarity to Ah Chew's.
"(My dad) was very much ahead of his time," Vince says.
Over the years, Ah Chew continued to give back to the game. He often helped coach players on Vince's UH roster, teaching ballhandling skills to Melanie Azama, BJ Itoman and Amy Kotani, to name a few. And he kept up with the younger players, always giving them pointers and encouragement.
"I wrote (former Iolani and current Washington State standout) Derrick Low a letter," he says. "I told him, 'To me, you are the greatest player ever in Hawaii.'"
That's really saying something coming from Ah Chew Goo, 88 years young and truly Hawaii's greatest basketball legend.
Most Recent Comment(s):