Alama-Francis: Bigger, Stronger

By
.(JavaScript must be enabled to view this email address)
Wednesday - August 02, 2006
|
Share

Del.icio.us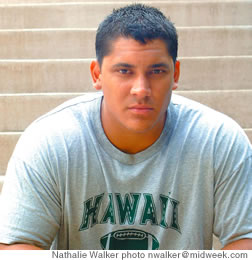 Alama-Francis
I've known Ikaika Alama-Francis for years, going back to his days as a tall and lanky basketball star at Kalaheo High School. I watched in amazement his college transformation from the hardwood to the gridiron, and like most UH Warrior football fans, I've cheered on every great tackle and quarterback sack he's made along the defensive line.
But I wasn't prepared for the newer, much bigger version of Alama-Francis. When I ran into him recently, I didn't see a former high school basketball star or even your average college defensive lineman. What I saw was a young man who looks in every way like a future draft pick in the National Football League.
"I gained 40 pounds since last season," Alama-Francis tells me.
That's 40 pounds of muscle weight.
So when the pre-season camp for the UH Warriors officially opens this week on Aug. 3, Alama-Francis will be listed at 6-feet-6-inches tall and a rock-solid 290 pounds. Those are NFL dimensions.
"That's one of my goals, to attain the highest level," says the son of former Green Bay Packer quarterback Joe Francis of Kaneohe. "I'm just glad June Jones had the confidence in me that I was going to be a football player."
Alama-Francis says he doesn't regret one bit his decision to switch sports, although he admits "I think about basketball all the time. I'll always be a basketball player first."
The former high school all-state basketball star was only 210 pounds when he made the switch. He says he gradually gained weight and strength the last few years under the watchful eye of UH strength and conditioning coach Mel deLaura. "I had to gain it gradually to make sure I keep my speed," Alama-Francis says.
That speed and natural athleticism are the two main reasons why NFL scouts should be salivating over the Kaneohe-native this fall season. It should also help that the Warriors are expected to have an outstanding defensive line, with Alama-Francis and Mel Purcell at defensive ends and Michael Lafaele at nose tackle in their current 3-4 format. "When we're clicking, this defense can stop anyone in the country. We're going to be amazing," Alama-Francis says. "Our goal is to win the WAC and go to a bowl game."
That confidence in his ability and his team's expectations is growing just as fast as his body. Alama-Francis says he worked throughout the spring and summer on a strict regimen that had him lifting weights three hours a day. "We worked on specific body parts (for bulk and strength) and then constantly ran (for speed)," he says.
But to build up his weight so that he could be a punishing presence along the defensive line, he also needed to "eat and rest," he says. "Because you're tearing down your muscles when you lift, rest and relaxation is so important."
Alama-Francis said that being with his family in Kaneohe - his father, Joe, his mother, Rolenda, and his 5-year-old sister Leya - was the best relaxation.
"My mom gets me anything I need. She cares so much," he says. "(And) my dad is the best cook. He'll make the juiciest steaks, pot roast, lasagna - I'll eat anything. I get hungry just talking about it."
Another relaxation tool is watching movies.
"I've become a movie critic," Alama-Francis says. "My favorite is Shawshank Redemption. I've seen it so many times."
The classic film about prison life and justice was also the subject of one of his UH classes.
"We watched and studied it in my American Corrections class," he says. "It inspired me. I'm a sociology major and I'd like to be a counselor."
But rest and relaxation are about to get sacked - there's a big-time football season to tackle. For Alama-Francis and the 2006 Warriors, it all starts Sept. 2 at powerful Alabama.
"I don't even know what their stadium looks like, but I visualize it every day," he says. "I see myself sacking their quarterback in front of 100,000 people or whatever they have there."
It's a visualization worthy of future NFL star Ikaika Alama-Francis, all 6-foot-6, 290 pounds of him.
Most Recent Comment(s):