Alika Smith: Born To Be A Coach

By
.(JavaScript must be enabled to view this email address)
Wednesday - November 12, 2008
|
Share

Del.icio.us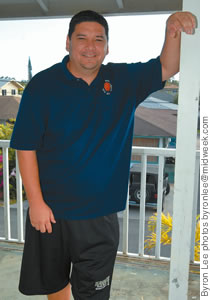 Alika Smith: following in his father's footsteps
When the news trickled out late last month that former University of Hawaii star Alika Smith had been named the new varsity basketball coach at Academy of Pacific, I couldn't have been happier.
I have a soft spot in my heart for both Alika and AOP. I first saw Alika when he was an amazingly-savvy eighth-grader who could already teach the adults a thing or two in pick-up games at the Kailua Rec Center. When he developed into one of the most prolific players in Hawaii high school and collegiate history, I wasn't surprised - I had seen that picture-perfect left-handed jump shot up-close and personal.
As for AOP, I coached at the tiny ILH Division II school in Alewa Heights a few years ago and it was one of the greatest experiences of my life.
Working with the young players - some of whom had rarely played competitive basketball before - was truly a defining moment for me. I quickly found out that coaching there wasn't about wins and losses or x's and o's, but about developing character and confidence in a positive environment.
The journey that we shared together from the first moment we got together on the AOP campus blacktop to the time I saw many of these young men graduate was something to cherish for all time. To see players like Kaimana Komine and Keoni Daniel and Tri Bourne and Brad Foster blossom into all-stars was better than any championship banner could ever be.
Now Alika will have that opportunity - and I envy him greatly.
Nothing in his long background in playing or coaching - whether it was with his father, Kalaheo's legendary Pete Smith, or at UH Hilo as an assistant under Jeff Law, or with Riley Wallace as both a player and coach in Manoa - will prepare him for the journey that he's about to undertake. That's because AOP is a special place - a place where some students come for a second chance and many others earn their first real opportunities as athletes.
When I spoke with him the other night, he told me he was truly looking forward to the start of his first season there.
"It's really exciting," he says. "I was born to coaching, and to have this opportunity to work with youngsters both on and off the court, to help them shape their lives, is really great."
Alika was encouraged to take the job by someone whom he watched grow up as a high school star at Kalaheo and later at UH-Hilo - that's AOP athletic director Ryan Hogue (no relation to yers truly). It was Hogue who convinced his former mentor to return to the sidelines after Alika's last coaching stint, with a fledgling professional team, didn't work out.
"To have a coaching legacy in my father, then Coach Law, and then Riley, I feel really blessed," he says. "Now I'm going to take what I've learned from them and try to put it to good use at AOP."
Alika will get plenty of time with his players. That's because he's already a substitute teacher at the Alewa Heights campus and expects to be named to a full-time position soon.
"Growing up, I had no idea even where AOP was," he says. "When I came here the first time, I quickly realized that everyone is here for the right reasons."
Those reasons include having a positive, nurturing environment with small classrooms and lots of individualized attention. Alika expects to give plenty of that one-on-one attention from the first moment he steps onto the court.
AOP players will now be the beneficiary of the hours and hours that Alika has spent in gymnasiums and on the playground. But at the end of the season, it will be interesting to see who learned more - the young athletes or their new head coach.
For Alika Smith, his new incredible journey begins now at AOP.
Most Recent Comment(s):