All In The Look Family At Iolani

By
.(JavaScript must be enabled to view this email address)
Wednesday - November 16, 2005
|
Share

Del.icio.us
You often hear of island families who are so busy and so disconnected with each other's lives, they have almost no idea where each family member is going every day.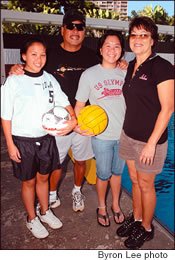 Kodi, Wendell, Jade and Linda Look
That's hardly the case of the Look family of Honolulu. Every morning when they wake in their Kapalama Heights home, they all know each other's destination - Iolani School.
Dad, Wendell, is the head of Iolani's Physical Education department and the head coach of the Raiders' ILH Division II championship football team. Mom, Linda, is also a P.E. instructor at Iolani (and the former department head on a rotating basis), plus the head coach of the varsity girls water polo team. Eldest daughter Jade is a junior swimming star for the Raiders and an all-ILH water polo player. And youngest daughter Kodi is a sophomore and a future star in soccer and golf. And both daughters have helped out as water girls for the football team.
"Iolani is a great place," Wendell says. "To have our kids grow up the Iolani way, it's very special."
"I never have to worry about them," Linda says. "Somehow, no matter how many different directions we're each headed, we almost always end up back here. There's such a family feeling here. Someone's always helping."
And their affiliation with the school goes deeper. Wendell graduated from Iolani in the 1970s, when he was a three-sport star
in football, basketball and baseball. In football, he was an all-conference defensive end and linebacker for the Eddie Hamada-coached teams. And Linda, who matriculated at Iolani's sister school, St. Andrew's Priory, was the team manager for the Iolani water polo team.
"Back then, they didn't have a girls team, so I would jump in the water with the guys and play," Linda remembers. "Some were accepting, some were not so. But a few well-placed kicks and I got their respect."
When Iolani finally opened its doors to girls in 1978, Linda's love affair with competitive sports led to her landing a P.E. teaching job there, plus an assistant coach position to legendary volleyball coach Ann Kang. Later, Linda was named the head coach of the girls' varsity swim team and led them to a couple of state runner-up finishes.
In the early '80s, fresh out of Boise State, Wendell was hired in the Iolani P.E. department and he quickly rekindled his friendship with Linda.
"It's quite hilarious," Linda says, laughing. "I knew him from high school, but he was actually my younger brother's contemporary. I remember he had an old girlfriend who was always accusing me of trying to steal him away. I thought, 'You've got to be kidding. Why would I want to be with a kid?' Years later, when he started at the school, we ended up in the same department, bumping shoulders and all that. One thing led to another and the rest is history."
"She's a very caring person," Wendell says of his wife. "Whether it's our family, or helping take care of Ann Kang (through her fatal battle with ALS), that's just her nature."
"The best thing about Wendell is that he is always evolving," Linda says of her husband. "A lot of women comment that their husbands are so set in their ways. He's always willing to change."
One of those changes meant Wendell had to take up the dinner chores when Linda's sport was in full season. "I'm great with the barbecue and the hibachi," he says, laughing. "You can't mess that up too much."
But these days he's got little time for cooking and no time for messing up. Iolani is headed to the Division II state championship semi-finals next week (Nov. 26). "The creation of Division II has given our kids great motivation," he says. "Our numbers (in football) are way up and the kids really have something to play for."
"He always wanted a championship team," Linda says. "It's very exciting."
Amidst all the hoopla, Wendell and Linda celebrated their 18th wedding anniversary just last week. They spent their entire day at - where else ? - Iolani.
Most Recent Comment(s):