And That Is The Name Of The Game

By
.(JavaScript must be enabled to view this email address)
Wednesday - August 12, 2009
|
Share

Del.icio.us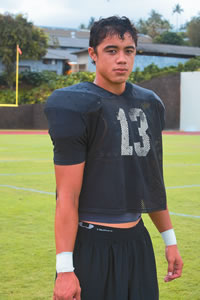 An all-star name:Wave Ryder
If you listen to Oldies radio, you may have heard the song The Name Game. It's a clever little ditty that goes like this:
"The name game! Shirley! Shirley, Shirley bo Birley Bonana fanna fo Firley Fee fy mo Mirley, Shirley!"
And so on.
But if you think that's fun, you should see the name game being played out in local high school football these days. Unique monikers like Handsome, Kona, Wave, Shaydon, Taz, Samson, Pep and Elvis are popping up among the top local seniors this upcoming high school football season.
"It might just be a happy accident," says Chris Fetters, who runs the recruiting Web site Scout.com. (Coincidentally, Fetters says there's a national recruit in Washington state by the name of Happy Aiona.)
Hawaii sports fans are used to all the often tongue-twisting names from the cross-section of cultures that reside here. We're all used to Polynesian names mixed with Chinese and Japanese and Vietnamese and other countries from around the Asian-Pacific rim.
"Some of the names are cultural," Fetters says.
This year, however, it's so much more than that. There are names this season that are unique, names that are unusual, names that are repetitive, names that are biblical, names that are lyrical, names that are somewhat historical, and names that are just plain memorable.
Here's just a partial list of names that Fetters has on Scout.com's highly watched recruits list:
* Handsome Tanielu, 6-foot-2-inch, 270-pound defensive lineman from Waianae
* Wave Ryder, 6-foot-2-inch, 185-pound defensive back from Kamehameha
* Ace Morgan, 5-foot-11-inch 215-pound linebacker from Kapolei
* Elvis Matagi, 6-foot-2-inch 260-pound defensive lineman from King Kekaulike
* Taz Stevenson, 6-foot-2-inch 185-pound wide receiver/running back from Mililani
* Foi Foi, 6-foot-2-inch 275-pound defensive line-man from Kapolei
* Moses Samia, 6-foot-1-inch 225-pound fullback from Saint Louis
* Samson Anguay, 5-foot-8-inch 155-pound wide receiver from Campbell
* Kona Schwenke, 6-foot-5-inch 215-pound defensive lineman from Kahuku
* Shaydon Akuna, 6-foot-3-inch 210-pound line-backer from Kapolei
* V.J. Fehoko, 5-foot-11-inch 215-pound linebacker from Kahuku
* Beau Yap, 6-foot-1-inch 230-pound defensive line-man from Kamehameha
* Hauoli Jamora, 6-foot-2-inch 230-pound defensive lineman from Kahuku, and
* Pep Fonokalafi, 6-foot, 290-pound defensive line-man from Kaimuki.
And then there are last names that might lead to creativity for local headline writers:
* Chan Spikes, speedy running back from Hilo
* Andrew Manley, most highly recruited local quarterback
* Kaena Moose, huge defensive lineman from Iolani, and
* Brian Suite, top safety prospect from Punahou.
Fetters says front runner for "name of the year" honors goes to Wave Ryder, who actually was named after a popular song.
"My mom's favorite song was Wave Rider by Butch Helemano. She thought it was cool," says Wave.
(Yes, he says, his whole family loves surfing. Wave is into body boarding.)
Currently, the Kamehameha defensive back is getting recruited by Hawaii, Utah, Utah State and Colorado, and was recently written up on SI.com, the Sports Illustrated Web site.
Fetters says he's not sure whether having a unique name makes a difference in recruiting circles: "Attention, yes, but not necessarily a big effect on the recruiting process," he says.
But Wave disagrees. "Everybody remembers the name," he says. "I wouldn't change my name for anything."
It's all part of the game - the name game.
Most Recent Comment(s):