Another Side Of The Super Geek

By
.(JavaScript must be enabled to view this email address)
Wednesday - July 09, 2008
|
Share

Del.icio.us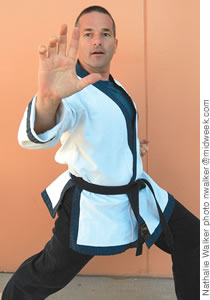 James Kerr says that for him martial arts were transformative
First of all, James Kerr owns Super Geeks. Yep, he's the guy you've seen on TV who fixes your computer in the Superman costume. Yep, that's him!
Whatever you think of the commercial (and I have to tell you, personally, I think it's a terrifically successful advertising campaign), Kerr is no geek. In fact, he's one smart, athletically tuned-in guy.
So smart and so athletically tuned-in that he runs and operates SmartKarate in his spare time.
"I've been studying the martial arts since the age of 14," Kerr says (he's now 43). "I grew up in a single-parent family (in Maryland) and my father was missing in action in Vietnam. (He was officially declared dead in 1979). The whole ordeal made me very insecure, very shy. My mother kept encouraging me, but it wasn't until I discovered the martial arts that I changed. In fact, I consider the experience a total transformation."
Kerr went on to earn his black belt in karate, earn a college degree from the University of California at San Diego and work for Sony in Japan, and then start several businesses.
"I also learned to fly and to Scuba dive. I believe that martial arts gave me my free passport to reach my goals," he says.
Ten years ago he opened the doors to Super Geeks in Honolulu and the business took off. The Superman commercials along with computer technicians driving around in colorful Mini-Coopers have made his company a household name. Now, Kerr is trying to do the same with SmartKarate.
"Originally the program was called Karate Kids, but then the parents wanted to get involved. And the kids eventually became teenagers and didn't want to be called kids anymore, so we changed the name," he says.
Classes are held in three locations Tuesday through Saturday each week - at McKinley High School, Kawananakoa Intermediate School and Kahala Elementary.
"We cater to all age groups," he says. "We also give family discounts."
When I asked him about the "Smart" part of his name, he says, "Karate started as a way for warriors to protect themselves. Today, to be a true warrior in our society, you have to be physically sound, and also emotionally and intellectually sound."
Toward that end, Kerr often brings guest lecturers into the karate classes to teach subjects like financial management and other academic pursuits.
"We encourage our students to take an interest in learning," he says.
Kerr tells the story of one young student who came into his class because he liked the idea of learning how to kick and punch, and he had probably seen a number of violent martial arts movies on film or on TV.
"The student asked me if I ever had used martial arts," he recalls. "I told him 'Yes, every day.'The student's eyes got really big and he said, 'You get into fights every day?' and I told him 'No, it's the benefits of learning the martial arts that helps me every day.' It helps in setting goals, persevering, gaining confidence and gaining self-esteem. It's about exercise and self-preservation and dreaming big and going far.
"It's not just about the kicking and the punching," he adds. "It's about all the other skill sets. That's why learning the martial arts works today. It's a system of empowerment."
For more information on SmartKarate, check out www.SmartKarate.com or call Kerr at 738-KICK.
You might just get a call back from the Super Geek himself.
Most Recent Comment(s):