Are You Ready For Some Football?

By
.(JavaScript must be enabled to view this email address)
Wednesday - August 31, 2005
|
Share

Del.icio.us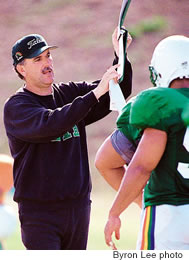 June Jones prepares the Warriors for
Saturday's opener against USC
I can't believe how excited I am about this upcoming Saturday at Aloha Stadium. My friends would say it's because I'm a USC alum and I can't wait to see my team pursue another national title.
That's partly true, but it's not the whole story.
To put it simply, I love the college football season. From the very first game of the regular season, all the way through the bowl games in late December and early January, I'm there.
I watch TV games from the moment I get up on Saturday morning, all the way through the afternoon. I know which stations carry games on the radio if I'm out and about in my car. I know who's who in the Top25 and I can probably tell you who's in the Bottom 10, too.
Yes, as my wife would say, I'm a collegefootballaholic.
That's why the first thing I did when I moved here in the fall of 1988 was to buy tickets to a University of Hawaii football game. I still vividly remember the game as the 'Bows (it was politically correct back then to call them the Rainbows instead of the Warriors) knocked off nationally ranked Iowa on a lastminute field goal by Jason Elam.
Since then, I've been to virtually every Hawaii home game. I've reveled in the huge regular season victories over BYU, Alabama, Fresno State, Michigan State and the bowl game wins over Oregon State, Houston and UAB. I cheered like crazy when we won WAC titles in 1992 and 1999, and I can still vividly remember being glued to the tube when the 'Bows whipped Illinois in the Holiday Bowl.
Like most true local fans, I also suffered through the embarrassing 0-and-12 season of 1998 when the 'Bows hit rock bottom. I remember other tough losses during that slump in the mid-'90s, like getting thumped by Michigan and Wisconsin and losing a heartbreaker to Notre Dame.
I can't believe we lost to everybody in the WAC. And did we really get shutout by Arkansas State? (Please note: I'm not talking about the Razorbacks of the University of Arkansas.)
But through it all, even through the traffic jams, and the silly Stadium security rules, I've been there.
That's why I'm disappointed to hear people complaining about the increased price of tickets this year. If I've heard it once, I've heard it a dozen times: "Nope, didn't renew my season tickets this year. No way I'm gonna pay those prices!"
Sure, people have a right to decide for themselves how to spend their disposable income. And they're right, they don't have to pay the higher prices if they don't want to.
But here's the rub. Some of the people who are complaining loudest are doing so because they feel that the University of Hawaii owes them something. "I mean, I've been there for 25 years. I even went during the vonAppen years. How can they do this to me?"
Ironically, as tough as it is to hear this, UH doesn't owe anybody anything, except the best effort that the players and coaches can give every Saturday. And to give that best effort — to get the program on par with other top programs or just to keep it where it is right now — takes the courage to make tough business decisions.
Just like a June Jones call on 3rd-and-12 in the final two minutes, UH athletic director Herman Frazier had to make the tough call on this business decision. In my estimation, he made the right call, getting Hawaii up to speed with college football ticket packages around the country.
Hopefully, the price increase will also mean that returning fans will get better treatment at Aloha Stadium, as well as an exciting effort by the boys in black and green. This year's home schedule features no less than four Top- 25 teams.
Win or lose, it's worth the price. Why? Because memories made on college football Saturdays are priceless.
Most Recent Comment(s):