Becks, Hoops,Thinking Pink, Etc.

By
.(JavaScript must be enabled to view this email address)
Wednesday - February 20, 2008
|
Share

Del.icio.us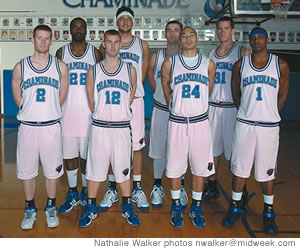 Thinking pink (from left) Hayden Heiber, Patrick Johnson, Mike Green, Marko Kolarik, Stewart Kussler, James Francisco, Dan Wendt and Patrick Collier
What a week this should be in local sports!
Get your binoculars and your scorecards ready, because this is going to be a busy week - a breathtaking week, really!
First off, there's the much-hyped Pan-Pacific Championships featuring four of the top teams on the world soccer stage, two from the MLS and one each from Australia and Japan - all playing at Aloha Stadium.
The world-famous soccer celebrity David Beckham will be here with his L.A Galaxy team. His just-as-famous wife, Posh, isn't expected to be with him - she has a concert - but who cares? One Beckham is enough to send the paparazzi wild and crazy.
And will Beckham and his mates be playing hard in this exhibition series? Perhaps a quote from Galaxy general manager Alexi Lalas says it best: "We're not looking at the tournament in Hawaii to sit on the beach and drink pina coladas."
And Becks is trying to play himself back into shape and make the English national team again - that's motivation.
If that's not a good enough reason to go, how about the presence of former Kamehameha standout Brian Ching? Ching, who is one of the fastest-rising stars in MLS, makes his return to the Islands with the two-time MLS champion Houston Dynamo.
The Pan-Pacific Championships kick off Wednesday, Feb. 20, atAloha Stadium with the Galaxy facing Gamba Osaka of Japan at 6 p.m., followed by the Dynamo against Sydney, Australia, at 8:30. The finals are set for Saturday, Feb. 23, with the third-place game at 6 p.m. and the first ever Pan-Pacific championship tilt at 8:30.
Of course, local sports fans will have to make some tough decisions this week, because also continuing is the second LPGA event on Oahu this month. Michelle Wie, Annika Sorenstam, Paula Creamer and the gang will descend on Ko Olina for the Fields Open all week long, with the official three-day tournament set for Thursday through Saturday, Feb. 21-23.
Not enough yet, you say? Well, for the first time ever, both the boys and girls basketball state high school championship tournaments will be played during the same week. Hoopaholics will be sent scurrying all over the island. The girls play Tuesday through Friday, Feb. 19-22, at Farrington, Kaimuki, Kalani and Aiea high school gyms before wrapping up at Stan Sheriff Center with the Division II and Division I title games.
The boys state tournament is scheduled for Wednesday through Saturday, Feb. 20-23, at McKinley, Radford, Moanalua and Pearl City before finishing up with their Division II and Division I championship games at Blaisdell Center Arena.
If that's not enough basketball mayhem, then "Think Pink!" That's what Matt Mahar's PacWest leading Chaminade Silverswords are doing Wednesday night, Feb. 20, at McCabe Gym.
Mahar and his staff have dyed Chaminade's old uniforms pink to help the NCAA's national fight against breast cancer.
"One in eight women potentially suffer from the disease, and we wanted to do our part to raise awareness," Mahar says. "You should have seen the looks on the guys faces when I first showed them the uniforms. But once they found out about all the statistics, they were proud to go along."
The game also will be Senior Night for the Silverswords, who face Jeff Law's very tough University of Hawaii at Hilo Vulcans in the 7:30 p.m. contest. That game follows the women's PacWest contest, which starts at 5:30. For more information on how you can help or donate to this worthy cause, call 735-4790.
Wear your pink!
Bring your calendars, too, because that's not all - the Wahine basketball team is home Thursday and Saturday nights, Feb. 21 and Feb. 23, against Fresno State and San Jose State, and Mike Trapasso's UH baseball team hosts San Francisco for a four-game series Feb. 22-25 at Les Murakami Stadium.
Don't know if you win anything if you somehow clone yourself and attend all these events, but you definitely deserve one thing when it's all pau - a nap!
Most Recent Comment(s):