Bedazzled By Three Rising Stars

By
.(JavaScript must be enabled to view this email address)
Wednesday - March 25, 2009
|
Share

Del.icio.us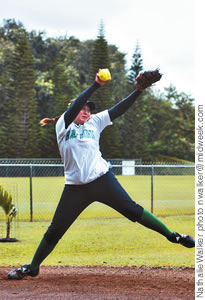 Courtney Kessell leads HPU to the top of the Pac-West standings
There are defining moments in sports when, as a fan, you absolutely know you've witnessed the beginning of something very special. That's happened for me three times in recent weeks - and each time, when a young athlete showed great promise and had one of these "defining moments," it was quite easy to think "Wow, a star is born!"
What makes it even more exciting for all of us local fans is the fact that all three of these rising stars also are Hawaii born and raised.
Rising star No. 1: Kolten Wong, University of Hawaii baseball, from Hilo. Defining moment: hitting three home runs in one game earlier this month against Loyola-Marymount.
Almost immediately he was being heralded as the most-exciting thing to happen to UH baseball in more than a decade.
How ironic that the "next" star at UH has a similar name to the "last" star at UH (Kolten vs. Colton Brennan). And just like the previous Colt, who came up with big plays despite a wiry frame, Kolten is putting up huge numbers and hitting monstrous home runs, despite being only 5 feet 10 inches tall and 170 pounds.
But baseball observers consider him to be truly a natural. It's been that way since he first picked up a baseball in Hilo. The son of former Big Island and USC baseball player Kaha Wong, Kolten showed that he could play virtually any position while in high school at Kamehameha-Hawaii. He was drafted as a second baseman by the Minnesota Twins in the 16th round of the Major League Baseball draft, but Rainbows coach Mike Trapasso convinced him that UH centerfield should be his next destination, and so it was quite a recruiting coup when Wong decided to stay in the Islands rather than sign a hefty pro contract. (That's another similarity to Colt Brennan, who passed on the NFL after his junior year.)
Rising star No. 2: Micah Christenson, Kamehameha volleyball and basketball, from Hawaii Kai. Defining moment: scoring 26 points in the HHSAA state Division I boys basketball semi-final.
The son of two former University of Hawaii at Hilo stars (Bob Christenson and Charlene Kahuanui), and the grandson of legendary UH star Harry "Clown" Kahuanui, it's as if Micah has been bred to succeed. Perhaps the most amazing thing about him is that he's only a sophomore, but he shows the poise of a seasoned veteran. Many basketball coaches I spoke with felt he was the most-poised young player they'd seen in Hawaii hoops in many years. And at 6 feet 5 inches tall with long arms and great leaping ability, he's just as comfortable playing outside as inside. He also showed his tremendous shooting touch in helping lead the Warriors to their first state championship since the early 1990s.
Ironically, they tell me that basketball isn't his best sport; volleyball is! As an outside hitter for Kamehameha's outstanding boys volleyball team, he has a chance to lead his Warriors to another state title in that sport. He's definitely going to be fun to watch for next two-plus years!
Rising star No. 3: Courtney Kessell, Hawaii Pacific University softball, from Waimanalo. Defining moment this year: pitching a two-hit shutout over a 21-1 Dixie State team to help the SeaWarriors take over first place in the PacWest conference standings.
OK, you're probably right, Courtney already is a star, and has been for several years, dating back to being named Gatorade Player of the Year at Kailua High School. But what makes this season's performance so defining is that now she's a senior in college. And after leading HPU to the best record in the entire NCAA last year but being left out of the NCAA tournament, she knows this is her final chance to get HPU to nationals. As the reigning PacWest Pitcher of the Year, she knows that her performance in the pitcher's circle while the team travels to the Mainland this week and next will help determine that fate. For Courtney, she knows full well that every time she touches the pitching rubber for the rest of her senior season, it will have to be a defining moment.
The daughter of two Honolulu radio personalities (Chris Hart and Lisa B) has grown up understanding how to perform at her best under pressure. Now, the spotlight will be on her. It's definitely her turn to shine.
Watching all three of these rising stars perform their magic all spring long will be a true joy to behold. Good luck to Kolten, Micah and Courtney! May the defining moments continue!
Most Recent Comment(s):