Better Balance = Better Hoops

By
.(JavaScript must be enabled to view this email address)
Wednesday - May 19, 2010
|
Share

Del.icio.us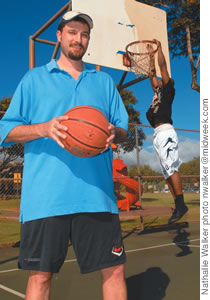 Govinda Patterson trains professional basketball player Tony Dandridge (back
Is it possible to teach an old dog new tricks? If the "old dog" just happens to be a certain middle-aged basketball player and MidWeek columnist, I can tell you it is very possible- especially if the teacher is Govinda Patterson, a 34-year-old former player and coach from Northern California, who now lives in Mililani.
Just 10 minutes on a local basketball court with Patterson arguably taught me more about balance and control than I had learned in five decades playing the game. I came away from the court absolutely amazed at his revolutionary ideas that combine basketball strategies with techniques learned in the martial arts. Patterson calls his system the "Better Balance Techniques."
"It doesn't matter how big or strong or fast you are. If you know your center of balance and you use it to control your opponent's balance, then you have a big advantage," he says.
If this sounds like mumbo-jumbo, trust me, it isn't. While he was teaching me, it was as if a light bulb was going off - to actually feel balance being taken away or helping gain an advantage was an incredible feeling.
"Why would you play off-balance if you didn't have to?" he asks rhetorically. "I think what I'm teaching can help shape the way people play the game."
Patterson knows his stuff. He grew up playing basketball in and around Mount Shasta, Calif. He was an all-star post player in high school who grew to be 6 feet 5 1/2 inches tall, and he played junior college ball at the College of the Siskiyous before a back injury prematurely ended his career. Along the way, he also had dabbled in the martial arts, including aikido, judo and karate, and he earned a brown belt in Kung Fu San Soo.
"I didn't realize it at first that what I was doing was combining what I had learned in (martial arts training) and applying it to basketball," he says. "After I got hurt I couldn't play, so I thought about the game all the time, and it just made so much more sense. The center of balance - knowing your center of gravity - was the key. The techniques help so much with post offense, post defense and rebounding."
Patterson did some voluntary and assistant coaching in California and Utah before moving to the Islands to be with his girlfriend, Lianna. He's lived in Mililani the past three years and is now trying to promote his idea to NBA coaching staffs. He's talked with nine NBA teams and one WNBA team, but so far he hasn't been able to get past an introductory stage and all the way to the head coach.
"Every team has loved what I've shown them, but unfortunately I haven't been able to see any head coaches yet. It boggles my mind," he says with some frustration. "I would think that any coach who wants to win would be willing to see me for 10 minutes. I realize that the NBA has hundreds of people calling them, and they may think this is just another crazy person calling. (But) I think this (technique) definitely creates a chance to give their players an advantage. Even if it's only a couple of rebounds a game, it's worth it!"
One person who has helped him in his journey is basketball legend Bill Walton. Patterson was introduced to Walton by former UCLA and Hawaii coach Larry Farmer, and they met near Walton's San Diego home with Patterson showing him the Better Balance Techniques.
"He watched and listened so intently, and said he agreed with everything I said," says Patterson, "and then he wrote me a great letter of recommendation. It's opened so many doors."
While he waits for a response from some of the teams he's spoken with in the last few months, he works with a number of individual basketball stars locally. He's helped a few high school and University of Hawaii players as well.
He also is currently working with Tony Dandridge, the former college slam-dunk champion from the University of New Mexico, who now plays in the NBA Development League.
Take it from one old dog: Govinda Patterson has some ideas that can truly revolutionize how basketball can be played offensively and defensively. All it takes is about 10 minutes to find out who truly has the better balance technique.
Most Recent Comment(s):