Bill Lee And The Magic Of Fast Fun

By
.(JavaScript must be enabled to view this email address)
Wednesday - July 13, 2011
|
Share

Del.icio.us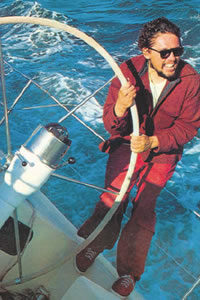 Bill Lee at the helm of Merlin in 1979. Photo from Michael Roth
When the first boats for Transpac 2011 come around Diamond Head and make their way to a safe landing at Waikiki Yacht Club, Bill Lee will be there. And he'll be having fun.
"Fast is fun," he always says. Lee made the saying famous in sailing circles in the 1970s, and it's still his company's motto to this day. The boat-builder/designer/sailor is now the reigning commodore of Transpac, having been unanimously elected a year ago. That's particularly fitting because this race celebrates the 40th anniversary of his first Transpac crossing from California to Honolulu.
"I sailed my first one in 1971," he tells me cheerfully. "We were off to a great start, and then the wind died and we sat there in the middle of the ocean."
While growing up as a teenager in Newport Beach, Calif., Lee had listened to the Transpac results on the radio and dreamed of sailing across the Pacific. By his mid-20s, he was sailing off Santa Cruz, where he soon developed a reputation for quirkiness "a bespectacled bohemian with a penchant for red socks, red sweaters and dockside parties," one sailing magazine wrote back in the '80s.
By then, Lee had developed an incredible new design of boats that changed the way the Transpac was raced.
If "fast is fun," then "lighter is better" was how Lee thought. He convinced his skipper that a light design would make for the fastest crossing. And despite doubts about how a light craft would stand up in the potentially tumultuous Pacific waters, he was absolutely right. He took over a property that used to be a hillside chicken coop in tiny Soquel in Santa Cruz County and turned it into a boat design center that soon became the pride of the sailing community.
In 1973, his design Chutzpah won the Transpac despite heavy time handicaps due to tremendous reduction in weight by several thousand pounds compared to the more traditional big boats. "But I wasn't on board on the Chutzpah," he says. A few years later, he would change that designing the fastest boat of its era, Merlin, and then taking part as a member of its crew.
"Merlin was the most fun," he recalls. And when I asked him why, he had a simple answer: Cuz we won!"
Lee has always had a soft spot in his heart for Merlin. Perhaps it was the fact that he both designed and crewed, or perhaps it was the magic of its name. "More people had more fun sailing fast on Merlin than any other boat," he says. Soon, Lee became known simply as "The Wizard," and his company is fittingly called Wizard Yachts.
Now, on his 40th anniversary race, a huge number of this year's fleet will sport the Bill Lee design. "More than a quarter of the fleet; I've lost count," he says.
When Lee lands in Honolulu this week by plane; he no longer crews across the Pacific as he nears the age of 70 he'll be ready to join in the fun. "As commodore, there will be fires to put out for sure, but I'd rather relax in Hawaii," he says. "The Honolulu committee has done a great job, and we can't thank them enough. It will definitely be a great party for a week."
Lee is always looking forward to the parties after the hard work of designing and sailing. He says he hopes for two things for every skipper and every crew member:
"Go fast, and enjoy themselves," he says.
From a chicken coop in Soquel to the wide open waters of the Pacific, all the way to the parties of Honolulu, that's Bill Lee's motto for the last 40 years of Transpac.
Here's to another fast safe crossing!
Most Recent Comment(s):