Body, Mind, Spirit And 1,000 Wins

By
.(JavaScript must be enabled to view this email address)
Wednesday - March 12, 2008
|
Share

Del.icio.us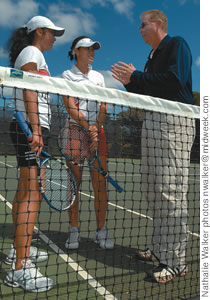 Elwen Li and Maggie Deng get advice on doubles strategies from longtime BYU-Hawaii tennis coach David Porter
Victory milestones are harder to reach the higher the number. When a coach reaches the milestone of 1,000 victories, then you know it's a milestone to remember.
This week, BYU-Hawaii tennis coach David Porter reaches the lofty plateau of 1,000 coaching victories achieved by his Seasider men's and women's tennis teams.
"I suppose if you stick around long enough and get lucky to get some good recruits, then it happens," Porter says with great humility.
But Porter is very proud of the achievement that has taken nearly a quarter of a century- dating back to 1984 - to produce. His BYU-Hawaii teams have won nine women's tennis national championships - including this past year - and two men's tennis national championships. This year's Seasider women's team is ranked No. 1 in the nation - again.
"We've been blessed to get great kids who are very talented, who want to come and play tennis and study in this kind of academic environment," he says.
His BYU-Hawaii teams have nearly always been a veritable United Nations, with student-athletes from Hawaii and the Mainland U.S. joining others from all over Europe, Asia and the Pacific Islands. This year's women's team has players from China, Korea, Japan and Romania. This year's men's team has players from Samoa, China and India.
"Early on, I had a lot of players from Europe - from Hungary and Sweden and Denmark. In recent years, it's been the South Pacific and the Asian rim," he says.
"I've gone over to China many times to work with their national team. I still go over there once or twice a year to camps and clinics."
But with all the world travel, Porter still calls Laie home. "You can't imagine a better location," he says. "The beach is a hundred yards away, and then there's the library and the (Mormon) temple. The mission of the university, with the church, means a perfect balance between academics, athletics and spiritual development. I've had opportunities to go to other schools at higher levels, but then I wouldn't be able to do what I do here."
Porter is also a full professor at BYU-Hawaii, and that part of his life - the life away from the tennis courts - is very important to him. He studies sports psychology and sports as a science, and he never stops reaching out for more information and broader horizons.
"I believe in the mind, body, and spirit," he says. "We don't focus on just athletic results; we focus on the whole person. I believe what (former Cy Young award winner) Vernon Law said, 'When you're through learning, you're through'!"
Porter, 56, is hardly through with anything. He and wife Lorrie have been married for 32 years and have four children - Tara, Lincoln, Dillon and Taylor. All four of the Porter children have played or will play for dear old dad.
Having moved to Hawaii in 1982, Porter was a former tennis and basketball star at BYUProvo. He originally came to Laie as an assistant basketball coach at BYU-Hawaii and was offered the job of head basketball coach in 1984. But true to himself and true to friendships he had developed, he turned it down, deciding to pursue finishing his doctorate in education instead. That year, he also started the Seasider men's tennis program. Nine years later, in 1993, the women's tennis team was born.
And all along the way, the victories just kept on coming. His teams won PacWest titles and NAIA national titles and NCAA national titles. He's had so many All-PacWest and All-American players he says he's lost count.
This week, he reaches the victory milestone of 1,000 wins.
For David Porter, however, it might mark only the beginning. "Life and the game are always changing," he says. "I'm always continuing to learn."
The learning - and the winning - continue.
Most Recent Comment(s):