Brennan's Heisman Push Begins

By
.(JavaScript must be enabled to view this email address)
Wednesday - November 08, 2006
|
Share

Del.icio.us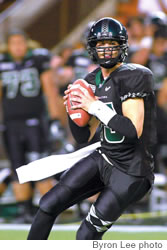 Colt Brennan: getting national
attention
Remember when the University of Hawaii promoted Timmy Chang for the coveted Heisman Trophy? Despite Chang's record-shattering numbers, the campaign went nowhere.
Those who vote for the Heisman simply didn't think the yardage numbers were enough to put TC on their list. Then, there were all those complaints about the run-n-shoot being a so-called "gimmick" offense, where numbers are essentially inflated. And, there's always that Mainland, big-school bias.
Ironically, a few years after Chang's departure and with the same offense and the same incredible yardage figures (and our same isolated place in the middle of the Pacific Ocean), Hawaii's Colt Brennan is getting legitimate mention in the Heisman race. Sure, Ohio State's Troy Smith is the odds-on favorite to win the prize this year, but it's nice to see a Hawaii player actually get some national notice.
Here's what just a couple of the national pundits were saying about our very own precision passer after the 68-10 blowout of Idaho on Homecoming night:
By Richard Cirminiello Collegefootballnews.com Posted Oct 31, 2006 Enter Colt Brennan, the former Colorado walk-on and current Hawaii gunslinger, who has begun raising awareness after throwing five touchdown passes in a game for the fifth time in the Warriors'last six games. Like Wolfe, Brennan's numbers are getting hard to ignore, so many Heisman voters have stopped trying and started paying attention to his box score since most of Hawaii's game are neither on national television nor over before the wee hours of Sunday morning. With higher-profile games still left against Purdue and
Oregon State, Brennan's got a shot to do what former Warrior Timmy Chang never could - parlay record-breaking numbers into Heisman votes.
Heisman Contender of the Week
9. QB Colt Brennan, Hawaii - Brennan's staggering numbers are beginning to resonate off the Islands and on to the mainland, where voters reside. His production has been staggering, bringing David Klingler's single-season
record of 54 touchdown passes within reach with five games remaining. Oh, and just in case voters believe Brennan is merely a chucker or a stat
compiler, he's also on pace to shatter Shaun King's single-season mark for passing efficiency.
Last Week: 31-of-38 for 333 yards and 5 TDs - 5 carries for 63 yards (Idaho)
2006 Season (through Idaho game): 230-of-311 for 2,934 yards, 33 TDs and 5 INTs - 45 carries for 194 yards and 2 TDs
By Pete Fiutak CollegeFootball-News.com
Posted Oct 31, 2006 And I promise, you won't have to endure any TV ad
spots for this campaign ...
Since the University of Hawaii isn't promoting QB Colt Brennan, let me be the one to get the ball rolling: he's really, really, really, really, really good. As the only Mainland American who watches Hawaii football on a weekly basis, what Brennan is doing with the attack is scary. I know, the negative campaigns will complain that he's averaging 367 passing yards per game with 33
touch-downs, five interceptions, with no picks in the last four games, while completing 74 percent of his throws because he plays in the WAC. It helps, but he also
threw for 350 yards and two touchdown against Alabama. In his last six
games he has thrown 5, 5, 4, 5, 5, and 5 touchdown passes.
My Heisman ballot this week would be ...
1. Troy Smith, QB Ohio State
2. Mike Hart, RB Michigan
3. Colt Brennan, QB Hawaii
4. Pat White, QB West Virginia
5. Ray Rice, RB Rutgers
No wonder Hawaii fans are so excited. After the numbers he's put up in the last month and a half, it's not surprising that June Jones was quoted as saying that he can't imagine a better quarterback anywhere in the country.
Will it be enough to get Brennan the trophy?
Certainly not, but there's an outside chance of an invitation to New York City for the trophy presentation. Although even that would be highly unlikely.
What's most likely is that Brennan will lead the Warriors back to the Hawaii Bowl this Christmas Eve and that he will be among the top contenders for the Heisman trophy next year - his senior season.
That's when the real campaign will begin.
Most Recent Comment(s):