Bringing Back 'Bows' Baseballers

By
.(JavaScript must be enabled to view this email address)
Wednesday - June 23, 2005
|
Share

Del.icio.us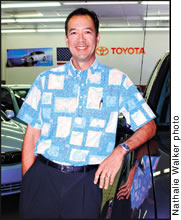 Wes Kimura 25 years after magic
happened in Omaha
The summer of 2005 marks a magical anniversary of a magical team in the state of Hawaii's sports history.
As you sit back and watch this week's College Baseball World Series, consider that it was 25 years ago that Les Murakami's University of Hawaii Rainbows charmed the baseball-crazy folks of Omaha. There was no national television coverage back then, but the Cinderella team from paradise won over the sell-out crowds even if they fell a bit short in the World Series championship finale.
"The people of Omaha really embraced us," recalls Wes Kimura, a relief pitcher on that 1980 UH team, and now a vice president of strategic planning for Servco Pacific in Honolulu. "They had these noise meters behind home plate. When the announcer asked 'Who's for Hawaii?' the applause went off the scale."
It was an improbable ending for a team that wasn't expected to go anywhere that year.
"On paper, we weren't supposed to be there," Kimura says. "We didn't have lofty goals. We had lost Derek Tatsuno, Ron Nomura and Vern Ramie from the year before."
But this little team that could did have one thing on its side — a little superstition and perhaps a little magic.
"Coach Les was a superstitious guy, especially when it came to our uniforms," Kimura remembers. "About halfway through the season, we got these new satin jackets, and we started winning. So we wore them everywhere. We got on this magic carpet ride and we kept on winning."
Whether it was the jackets, talent or a little bit of luck, the Rainbows won the Southern Division title in the brand new WAC. "That had been our original goal," Kimura remembers. "We didn't expect to go any further."
But the 'Bows beat BYU at old Rainbow Stadium to win the overall conference championship. Then they stormed into the NCAA Regionals in Austin, Texas, and won that, too.
"We were laying on the turf at the Central Regionals and we couldn't believe it," Kimura says. "We hadn't prepared for this. We had nothing. When we got to the hotel (in Omaha), one of the teams, St. John's, all came in three-piece suits. Arizona was in matching red sweaters. We checked-in in our T-shirts and jeans."
Still somehow, the magical kids from Hawaii advanced all the way to the title game. "We beat the guys in the three-piece suits," Kimura says. "Everybody was going home, and we were still hanging around the hotel lobby in our T-shirts and jeans."
And since the boys of Hawaii weren't ready to come home, a bit of Hawaii came to them. "Gov. Ariyoshi came and brought leis," Kimura remembers.
The Rainbows kept right on winning, advancing out of the winner's bracket and needing just one more win in the double elimination format on the last day. Unfortunately, their magic ran out, and they lost two to Arizona for the title.
"Some tears were shed. Some guys were pretty hurt," Kimura says, candidly. "But overall, it was really positive. We never expected to be there. It was one of those magical moments you'll never forget."
Kimura and his teammates haven't forgotten. This next month, on Saturday, July 30, at the Hale Koa Hotel in Honolulu, they're planning the first-ever all-UH baseball alumni reunion.
"It's a chance for all of us to get together again," he says. "We've got a lot of stories to share, a lot of catching up to do."
It's a reunion for all the baseball 'Bows who hoped to match that magical ride to Omaha, and for that one shining team that made it all the way 25 years ago.
If you're a former UH baseball player (or you know of one), you can get more information on the baseball alumni reunion by contacting Sam Kakazu at 247-5771. Or you can e-mail him at .(JavaScript must be enabled to view this email address)
.(JavaScript must be enabled to view this email address)
Most Recent Comment(s):
Commenting is not available in this weblog entry.