Bringing Back Kamehameha Hoops

By
.(JavaScript must be enabled to view this email address)
Wednesday - February 01, 2006
|
Share

Del.icio.us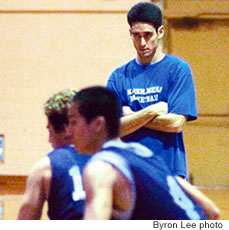 Coach Nakanishi takes a hard look at his
players during practice
It was the shot heard 'round Honolulu. When Kamehameha's Rykin Enos streaked down the court against four-time defending state champion Iolani and hit a running layup at the buzzer last Saturday night, pandemonium broke out at Kekuhaupio Gymnasium.
The Warriors' two-point victory marked the Raiders' first ILH loss in five seasons, and Kamehameha's long-suffering basketball fans poured onto the court as if the team had won the state title.
"It was the first time we've beaten Punahou and Iolani in the same year in a long time," says Kamehameha coach Jesse Nakanishi. "We finally got the monkey off our back. That's one of our goals, to build a proud reputation. We want to bring back the proud reputation of Warrior basketball."
Nakanishi, though only 28 years old, knows first hand about Kamehameha basketball tradition. He was a freshman on the Kapalama Heights campus the last time that the Warriors won a state title - in 1992. Then, as a junior in 1994, he was a key player for the Warriors when they lost a thriller to Iolani in the state championship game.
But Kamehameha hasn't been back to the title game since then.
Nakanishi hopes to change that. "I'd like Kamehameha to be a program like Iolani, to be there every year," he says.
The young coach knows that will only happen through hard work and perseverance. He often reminds his players of his own story, of how he went off to college to play basketball at Lewis & Clark in Oregon, but languished on the bench for three difficult seasons.
"That was the most challenging thing I've ever been through," he recalls. "It was three tough years. I loved the game so much, but not playing was so hard. I thought about quitting so many times."
But with the support of friends and family, including his twin brother Julian, who was playing at rival Whitworth College in Washington at the time, he persevered. In his senior year, Nakanishi not only played, but became a starter. The young coach (with twin brother Julian now working for him as an assistant) uses that story as a motivating lesson for his current players at Kamehameha.
"I tell them 'If you pay the price, something memorable will happen,'" he says. "Seeing our kids after the Iolani game, it was like 'Wow!' They'll never forget that."
Still, Nakanishi knows the big win is only a beginning. "It's only one win," he says. "I figure I don't know nothing yet. I'm always trying to learn."
Because of that, the young coach solicits advice from the man he calls his mentor, former Hawaii Pacific University and Maryknoll head coach Tony Sellitto.
"He helps me evaluate games," Nakanishi says. "I love him because he's always blunt with me. He tells me when I make a mistake and when I get it right. I need to hear that. I'm always seeking knowledge."
And the young coach is also doing whatever it takes to keep his winning team together as one unit.
"I'm a dorm adviser (on campus), and before the games and practice, the players come over to my apartment and have a snack here, watch film and study. We try to do everything together"
That togetherness has really paid off for this Kamehameha team that is off to its hottest start in many years. "We don't have any superstars," Nakanishi says. "But they have a great work ethic and they've really bought into the team concept. They're a great bunch to work with."
And then he adds perhaps the biggest reason for his team's success this season.
"I love basketball and I love this job," he says.
That love has spilled over into the hearts of all the players on this year's Warrior team. And the fans, too.
Bringing back the proud basketball tradition at Kamehameha is what it is all about.
Most Recent Comment(s):