Building A Sacred Hearts Tradition

By
.(JavaScript must be enabled to view this email address)
Wednesday - February 21, 2007
|
Share

Del.icio.us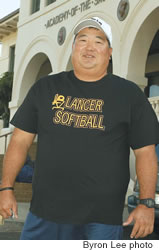 Wade Okumura: 'a perfect fit'
Every day Wade Okamura goes to work he makes history.
For the past 25 years, or longer than anyone else currently in the Interscholastic League of Honolulu and second longest in the entire state, Okamura has been the Athletic Director at Sacred Hearts Academy - a full quarter of a century.
"It's great satisfaction, being at one place this length of time," Okamura says. "You see the continuity, the tradition, and you're in a place to make tradition. That's all very special."
Okamura, 51, makes it special. This school year, he headed up a department that has won three state titles - one each in volleyball, air riflery and softball.
Softball is the sport that is Okamura's passion. For the last 25 years, he has also been the softball coach at Sacred Hearts.
Now, he's coaching a second generation of players. "Lisa and Jan Young were twins on one of my first teams. Now, Jan's daughter, Meleina Fraga, is our starting third baseman," Okamura says.
That family tradition is what keeps Okamura motivated.
"I love seeing the kids develop," he says. "You see them come in at the intermediate level and by the time they go out, they've become young ladies."
And with Okamura's coaching, they become very successful young ladies. For example, his daughter Nicole played for him at Sacred Hearts and went on to play college softball at the University of Pacific.
This winter, the success reached its apex when the current Lancers won the state's Division II softball crown. It was their first state championship after reaching the title game four previous times.
"The fifth time was the charm," Okamura says. "Four times we had been the bridesmaid. It felt so good not only for this team, but for all the girls who got so close."
Okamura has had a love for sports since his youth. He was a baseball star and a football standout at St. Louis. Then, after brief coaching stints at his alma mater, plus Maryknoll and Kaiser, he heard about the opening at Sacred Hearts. He never realized he would stay around so long.
"I didn't think that far in advance," he says. "It was just a perfect fit."
Okamura enjoys the small, family atmosphere at the Kaimuki school. He and his wife Darcie live only five minutes away from the campus.
He realizes that his teams might not have the overall talent level that exists at bigger schools, but he strongly believes his girls can compete with anyone.
"We teach them to strive to reach high expectations," he says. "They learn to push past pre-conceived notions."
Ironically, this year's success means that Sacred Hearts will get an immediate chance to reach higher next year. The Lancers will move up from Division II to Division I.
"Most schools would dread to go to D-I, but for us it's a welcome change. We're looking forward to it," he says.
Right now, Okamura is also looking forward to basking in the glory of his first state title. It means he has finally matched the achievement of his father, Herbert, who coached the Kalani High baseball team to the state championship in the early '70's.
"Now we both have state titles," Okamura says.
His father was able to bask in the glory of his son's success in close-up fashion. For the past several years, Herbert has been Wade's assistant coach. At Sacred Hearts, it's all in the family.
For Wade Okamura, it's history in the making.
Most Recent Comment(s):