Building A Tradition At Chaminade

By
.(JavaScript must be enabled to view this email address)
Wednesday - September 05, 2007
|
Share

Del.icio.us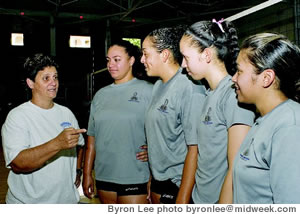 Coach Glennie Adams with Chaminade players Lila Sapolu, Evelyn Bluthenthal, Trina Kauli-Akamoa and Krista Catian
On the opening weekend of the collegiate women's volleyball season, the hottest collegiate women's volleyball team in the state wasn't from Manoa or even Laie. Winning four straight matches in Hilo, the unbeaten label belonged to none other than tiny Chaminade.
"I was pleased to start four-andoh," says Glennie Adams, the veteran head coach of the Silverswords. "I guess we just had a few less kinks than the other teams."
Adams, who is in her 14th season at Chaminade and her eighth as the school's assistant athletic director and senior women's administrator, is quick to point out that her players have to overcome tough odds.
"To say that it's been a journey is an understatement," she says. "We tell our recruits we're a small school and facility-challenged. We're very up-front with them so that there are no surprises."
While making do with less, she has been able to develop so much more. "We took our lumps when we competed against schools with older foreign players," she says. "But the field has leveled out. That has helped us. I can say I am very proud and thankful for what I have."
Silversword players, who have earned one conference title and two NCAA appearances during her tenure, are thankful for Coach Adams, too.
"I may look pretty rough on the exterior, but when people get to know me, I'm a softy," she says. "My sister says I'm such a bleeding heart - I have so much compassion for these athletes."
That compassion has manifested itself in many ways. Besides coaching, Adams brings years of judiciary experience and as a social worker to the table.
"I've had players who have suffered from various forms of abuse," she says. "I've always been there to help them. They needed to know they had someone that could make them feel comfortable and secure to talk about it."
Adams has been coaching volleyball for 20 years. She grew up in Kailua before becoming an all-state player and state champion at Kamehameha. She followed that by starring as an All-American outside hitter at UHHilo, where she helped lead the Vulcans to a national title.
"It helps that I played at a very high level (and) it helps most that I went through (legendary Hilo coach) Sharon Peterson," she says.
It was Peterson who mentored Adams and showed her the technical coaching points that led to her first head coaching position at Kaimuki High. In 1988, Adams moved to University (Lab School), where she produced three state champions in a row, including a Junior Rainbow team that was ranked No. 1 in the nation.
"It was a very good volleyball time for Hawaii - at all levels," she says.
Those University High teams produced outstanding all-star players, such as Danielle Robins and Tanya Fuamatu. Now, Fuamatu-Anderson is Coach Adams' assistant coach.
"I'm very confident in our skills as a staff," Adams says.
The Chaminade coach is also appreciative of her team's skills off the court - as community mentors at places such as Waimanalo Elementary School, and as student-athletes in the classroom. "We've consistently boasted a team grade point average of over 3.0," she says.
"We also have a very high graduation rate. Since I've been here, we've only had five student-athletes who have not graduated, and three of them are only one class away. I keep telling them 'get back in there and finish.'"
For the past couple of seasons, the Swords are also finishing strong on the court. They finished second in the PacWest last year, and with all-conference players Trina Kauliakamoa, Vanja Radnovic, and Evelyn Buthenthal returning, they look to be even stronger this season. Bluthenthal and Tanya Alvina made the all-tournament team during the 'Swords red-hot start.
At Chaminade, success comes in small chunks. But the rewards last a lifetime. "I remember all the players, always," Adams says. "I feel very fortunate."
Most Recent Comment(s):