BYU-Hawaii's Outstanding No. 4

By
.(JavaScript must be enabled to view this email address)
Wednesday - March 23, 2011
|
Share

Del.icio.us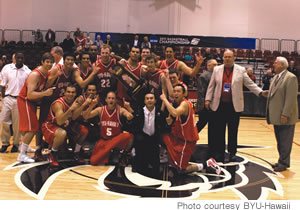 The BYU-Hawaii regional championship basketball team
I am Number Four is the title of a popular new movie. It's also a moniker that could be used by BYUHawaii's regional championship basketball team and its star forward Marques Whippy.
Whippy, who wears No. 4, earned Most Outstanding Player honors at the recent NCAA II West Region Championships as he led the Seasiders to the title in Ellensburg, Wash. It was the fourth straight time that BYU-Hawaii had reached the regional championship game, and after falling by four points or less in the three previous tries, the Seasiders finally came through.
The 79-73 victory over Dixie State earned them a spot in the Elite Eight this week in Springfield, Mass. It will be their first-ever trip to the NCAA II national championships. The Seasiders open against Bloomfield College March 23 at 2:30 p.m. HST.
After the emotional win last Monday night, Whippy, a Fiji native who has started for four straight years at BYUH, talked about what the championship meant to him.
"Three years coming here and falling short is something I will never forget," he says in his clipped British accent. "I told the boys I wanted to make sure we had no regrets. We played hard as a team, and all sacrificed for the team, and I'm so happy we can share this as a team."
Whippy says his team-mates are "like brothers" to him and that they stick together "like a family."
But there's no doubt he is their leader.
At 6 feet 5 inches tall, he had to play in what is traditionally known as the center spot on a very small Seasider starting lineup. But despite his lack of height, Whippy led the nation in rebounding for most of the year. In two separate contests, he went over the 20 rebound mark. In the title contest, he had a double-double with double digits scoring and rebounding.
"I remember what the great Bill Russell says: 80 percent of rebounding is 100 percent desire,'" he says, paraphrasing. "If you want the rebound, you'll do anything to get it."
Whippy's instinctive ability allows him to grab rebounds against much taller opponents, and he led the PacWest in both offensive and defensive rebounding this year on his way to garnering PacWest Player of the Year honors. He also was one of the conference's statistical leaders in scoring, blocked shots, assists, steals and field goal percentage. His remarkable statistics included a 31-point scoring effort in the regional quarterfinals against the second-seeded CCAA champion, plus games in which he picked up seven steals and another in which he had five blocked shots. You couldn't find a more rounded player anywhere.
"He's not very tall, but he's a quick jumper," says BYU-Hawaii head coach Ken Wagner, who had to put together a small lineup this year after the departure of the team's projected center. His team was seeded seventh in the regional tournament. "I couldn't be prouder of these guys. I think they surprised everyone. I don't think anybody picked us to win this tournament. We've been here the last three years and it's been disappointing. Maybe some would say those teams were much more talented, but these guys got it done. They play as a team, they take care of one another, they are unselfish, they work hard and they are the definition of a team."
And Whippy, who danced around the Central Washington gym lifting teammates in celebration after the regional victory, embodies the classiness of a true sportsman. Many officials told me during the season and during the tournament of his classiness, humility and gentleman's demeanor both on and off the court.
He is No. 4, but definitely on his way to No. 1.
Most Recent Comment(s):