Camping Time For Young Athletes

By
.(JavaScript must be enabled to view this email address)
Wednesday - June 01, 2011
|
Share

Del.icio.us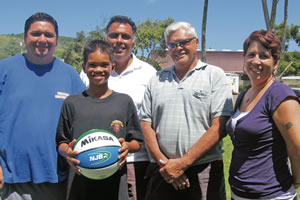 Alika Smith, Kaili Alau (with ball in front), Cy Phillip, John Sabas, and Maile Alau
I ran into UH associate head football coach Rich Miano the other day at the Quarterback Club. He's very excited (and very confident!) about next year's Warrior football team, but he's also just as excited about the opportunity provided to the football stars of tomorrow. This is a column about opportunities - for young athletes and for coaches.
"We've got our annual camps coming up, and we think MidWeek is a great place to spread the word," he says.
The first of three camps will be the Big Man Camp, for offensive and defensive linemen between the ages of 13 to 17. It's scheduled for June 10 to 12 at the university's football field. That's followed by the Skills Camp June 17 to 19 for wide receivers, quarterbacks, running backs, defensive backs, linebackers and tight ends, also in that same 13 to 17 age group. Finally, it's the annual Kids Camp for youngsters between the ages of 5 and 12.
Coach Greg McMackin, Cal Lee, Mouse Davis, Brian Smith and other Warrior coaches will join Miano for all the camps. You can call the UH football office at 956-6508 for more information.
"We're going to have fun and learn a lot. It's very competitive. This is our seventh annual camp, and some of the players we've evaluated over the years have ended up getting scholarships," Miano says.
Meanwhile, across town at McKinley High School on June 4, coaches in varied sports from all over Oahu will have an opportunity to learn more about the latest in sports health and safety at the HMSA Kamaina Coaches Clinic.
"Concussions have become a really big topic in athletics recently," says Patrick Williams of the HMSA Communications department. "We'll have experts on hand to help coaches identify concussions and also how to prevent them."
Coaches also will learn the latest information on keeping their athletes away from drugs.
"Designer drugs have become a big problem, and kids often get addicted without having any idea what they're getting into," Williams says. "We'll also have a discussion on prescription drugs, performance-enhancing drugs and over-the counter drugs, as well as drug prevention."
Williams says that coaches also will learn the latest in nutrition, training, fitness techniques and many other topics of general interest for HHSAA coaches in football, basketball, baseball, swimming, volleyball, softball, track and field, and other sports. Coaches can get more information by going online at .(JavaScript must be enabled to view this email address).
* Youth basketball players can sign up for an off-season league, as NJB Windward basketball signups continue this month. Signups are June 11 and June 12 (9 a.m. to noon) at Kaneohe District Park, June 11 (11 a.m. to 2 p.m.) and June 12 (8 a.m. to 1 p.m.) at Kailua District Park.
The Windward NJB emphasizes teamwork and fundamentals, and its motto is "Everyone is a winner."
The league, now in its seventh year, has four divisions: 10 and under, 12 and under, 15 and under and 17 and under, and plays from July until October, so it's a great opportunity to help youngsters get ready for the next basketball season.
Former UH basketball standout Alika Smith, now the head coach at Kalaheo High and whose son Jalen plays in the league, is one of the directors. His philosophy is shared by so many of the NJB coaches. "It's not always about winning and losing - it comes down to teaching and educating the kids," he says.
The new league president is former Colorado State assistant basketball coach John Sabas, who will be assisted by Smith, James Kalaukoa, Maile Alau and Cy Phillip. For more information, go to http://windwardnjb.d4sportsclub.com.
Most Recent Comment(s):