Catching Up With A Big Hitter

By
.(JavaScript must be enabled to view this email address)
Wednesday - January 17, 2007
|
Share

Del.icio.us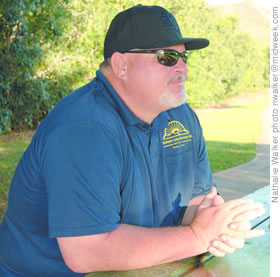 Former UH baseball star Joey Meyer
The other day while shopping in Kailua town I ran into a very big man - former University of Hawaii baseball star Joey Meyer.
Meyer, literally a mountain of man, has worked for the past decade and a half for Jacobsen Labor Services at Tripler hospital. He and his wife, Piilani, live quietly in Kailua with their family. At age 44, he has seven children and two grandchildren.
But 25 years ago, Meyer was one of the biggest names in Hawaii sports. Let me emphasize the word BIG.
Meyer hit some of the biggest home runs in UH baseball history, towering drives that made local fans "ooh" and "aah" as they soared over the fence at the old stadium. In Rainbow baseball history, Meyer is third on the all-time career home run list with 23 over two seasons, behind John Matias and Greg Oniate in the record book. But it's not the amount of home runs that Meyer hit, it's the way he hit them.
Meyer didn't just hit the ball out of the park, he crushed it.
"I was lucky," he recalls. "My father helped me a lot growing up. He threw me a lot of batting practice. And then to play for Coach Pal (Eldredge at Punahou) and Coach Les (Murakami at Hawaii) was great."
Meyer's long shots caught the attention of scouts, too, and in 1983 he was drafted by the Milwaukee Brewers. Four years later, on June 2, 1987, he hit the longest home run ball in minor league history.
By then, Meyer was playing first base for the Brewers Triple-A farm club, the Denver Zephyrs. The Z's, as they were affectionately known by area fans, played their home games at the stadium known for football, Denver's Mile High Stadium.
The air was thin and Meyer's bat was hot. "I was used to hitting the ball in batting practice, and you just knew when you hit one good. That time, I knew I hit one good," Meyer recalls. "Ironically, I didn't watch it. It wasn't until I was rounding third base that my coach told me I hit it into the upper deck."
The ball soared over the left field wall, over a sign honoring former Denver Bronco great Rich Jackson, and deflected off a seat before landing in section 338, row 3, seat 9. Over the next few days, the Zephyrs called in an engineer to measure how far the ball was belted.
The answer was 582 feet, the longest ball ever hit in the minor leagues.
"They changed the color of the seat," Meyer recalls. "All the seats around it were orange. (The one where his home run ball landed) was blue."
From Denver, Meyer took his home run prowess to the big leagues. For two seasons, in 1988 and 1989, he was the Brewers starting first baseman. "What I remember most about that time was the chance to play along side (Paul) Molitor and (Robin) Yount, two guys that made the Hall of Fame," he says.
Meyer hit .251 over the two seasons, but only 18 home runs, so in 1990, he took his big bat to Japan. "That was an experience. They used to come out early to watch me in batting practice," he says. "But they never played for the big inning. One run was enough. I remember we ended up with something like 11 ties. I'd never been in a tie game before. And afterward, they were happy about it."
Meyer's professional baseball career ended the next year. "I was in spring training with the Minnesota Twins and then I got traded to the Pittsburgh Pirates and broke my wrist. I ended up breaking it three times," he says.
By 1991, he was back in Kailua where he's watched his family grow up. A few years back, he coached his own son at Kalaheo, helping out with the varsity baseball team there. The sight of the big man in the dugout brought back memories of a time long ago when his bat was magic.
"Hitting the ball here (in Hawaii) with all the humidity is hard," he says. "The ball jumps on the Mainland. At (UH) stadium on a windy night, you could crush one to left field and it would go nowhere."
I asked him if there was a way to make home runs easier here. "They'd have to make home plate where right field is," he says.
I also asked his opinion on another big home run hitter, Mark McGwire, who failed to get into the Hall of Fame, allegedly for his use of steroids.
"I feel kind of sorry for Mark. I played with him in college, the minor leagues, and all the way to the bigs," he says. "He was a good player, but what's going on right now, you have to have that kind of opinion and make an example for the kids."
Today, Meyer is making a good example for his own kids. And he can tell them all that there was once a time when the words big home run and Joey Meyer were synonymous.
Most Recent Comment(s):
For all comments click here.