Celebrating Legends Of The Ocean

By
.(JavaScript must be enabled to view this email address)
Wednesday - September 01, 2010
|
Share

Del.icio.us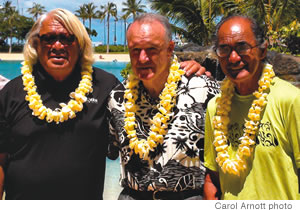 (from left) Buffalo Keaulana, Fred Hemmings and Nappy Napoleon at their induction into the Waterman HoF
A few hours before his induction into the inaugural class of the Hawaii Waterman Hall of Fame, state Sen. Fred Hemmings talked about his transition from football star to surfing legend.
"I played for about a half a season at UH," he recalls. Hemmings had been an allstate center for Punahou in the early '60s on the Buffanblu teams that featured Charlie Wedemeyer. He took a year off from the game after high school.
"I walked on to the team late and was fortunate enough to make the traveling squad and become a starter at center. My offensive line coach was Larry Price."
But life on the gridiron was not easy. Hemmings had already made his name in the surfing world, having won several world tournaments in Makaha and Peru. Football was a second love.
"I was getting my (okole) kicked and I had a bum knee, and about halfway through the season I decided I needed something in return for all my hard work," he says. "I went to the coach and asked him 'Why am I playing for nothing? I need a scholarship.' He gave me this reason and that, and finally said he didn't have anything for me."
"I said, 'OK, coach, I'm going to go surfing!'"
Hemmings' impulsive move to quit football turned out to be a great decision. Within a few years, he was surfing's world champion and went on to help create or promote several premier surfing competitions in Hawaii, including the Pipeline Masters, the World Cup and what grew into the Triple Crown. As a waterman, he was on teams that won four Molokai-to-Oahu canoe races, and he was the championship steersman on more Fourth of July Walter Macfarlane Canoe Regattas (61 wins) than any other person in history.
On the 120th anniversary of Duke Kahanamoku's birth, Hemmings and eight other legends of the water were officially inducted into the 2010 Hawaii Waterman Hall of Fame. Three legendary names - Duke, Rell Sunn and Eddie Aikau - were inducted posthumously. Hemmings, along with Buffalo Keaulana, Rabbit Kekai, Nappy Napoleon and Wally Froiseth were on hand too, at the induction ceremonies at the Outrigger in Waikiki. The daughter of 90-year-old swimming legend Keo Nakama was there to represent her aging father.
The ceremony was short and sweet, but the aloha spirit felt on the picture-perfect Oahu evening was filled with millions of wonderful memories.
Rabbit and Wally took our thoughts back to the Waikiki glory days of the 1920s and '30s when Duke was the king of the surfing world. Buffalo still looks like he's stronger than any wave anywhere - his annual Buffalo's Big Board Surfing Classic is an enduring piece of Hawaii's culture. Nappy smiled incessantly as he chased one of his young grandchildren around the room, and the Kahanamoku family sat proudly in the middle of the room enjoying short films about Duke and the courageous Rell Sunn and Eddie Aikau.
The acceptance speeches were so short that Gov. Linda Lingle quipped that we were all witness to the fewest words that Sen. Hemmings had ever spoken. She told a wonderful story of the day Hemmings taught her to surf: When she slightly cut herself on coral, he told her to get back on her board and "suck it up." "Back out on the water, sitting on our boards," Lingle recalls, "he paused and told me to feel the beauty and spirit of the water and everything around me. It was at that moment that I understood what it meant to be a waterman."
The event was sponsored by the Outrigger Duke Kahanamoku Foundation and Primo Beer and "celebrates individuals whose contributions to water sports unite, inspire and remind us of the unique opportunities our oceans provide us." A biographical display of the inductees, along with a prized longboard, will be on view at the brand-new Hilton Grand Waikikian Resort.
The evening was best summed up by words of aloha from Nappy Napoleon: "I feel like the luckiest man alive." Those in attendance feel just as lucky to know these giants of the water.
Most Recent Comment(s):