Chaminade Hoops On The Rebound

By
.(JavaScript must be enabled to view this email address)
Wednesday - November 22, 2006
|
Share

Del.icio.us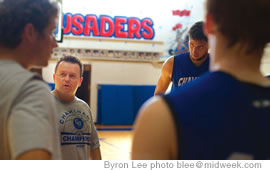 Coach Matt Mahar talks with some of his Chaminade
players
The first time I went to meet Chaminade men's basketball head coach Matt Mahar, I'll admit I walked right past him.
"I'm not the kind of kind of guy who wants to be in the limelight," Mahar says. (His last name is pronounced like "Marr.") "I tend to fly under the radar."
But this week on Maui, Mahar and his Chaminade Silverswords get their chance in the national spotlight, as they once again host the prestigious Maui Invitational in Lahaina.
It's that one shot where the little Division II school from St. Louis Heights gets a chance to play with the big boys.
"It's always tough opening in Maui," Mahar says. "But it's good for our kids to play on national TV. It's their one chance to gain some exposure. This year is especially tough with the imposing schedule, but the kids appreciate the great opportunity it gives them."
This is Mahar's second year at the helm of Silverswords after serving three years as an assistant to former CU head coach Aaron Griess. At age 34, Mahar had spent all of his previous coaching experience in an assistant's role on the East Coast.
"(Last year), I learned it was a lot different being a head coach than being an assistant," he recalls. "The games just move so much faster. As an assistant, you have your input, but as the head coach, you have so many decisions to make. And sometimes, it seems like you have to make them all at once."
But Mahar made those decisions very well. Despite his desire to stay out of the limelight, he led his Silverswords to the PacWest Conference Championship. It was the school's first-ever PacWest basketball title. Along the way, Chaminade recorded 19 victories, the most wins for a Silversword basketball team in 17 years.
After the season, Mahar was named the conference's Coach of the Year. Not surprisingly, Mahar downplayed the personal accolades.
"It didn't really enter my mind. Sure, it was a nice honor, but I felt the kids did all the work," he says. In fact, four players from the team earned all-conference honors. "To me, it was more like we had been named 'the coaching staff of the year.'"
Mahar and his staff strategize daily in a small trailer on the Chaminade campus. His school shares a gym with Saint Louis High School, so he knows the challenges of the job.
"We have a great relationship with Saint Louis, so I appreciate that," he says.
Last year, Mahar also served as the school's interim athletic director, helping Chaminade grow by three sports.
"We added women's basketball, and men's and women's soccer," he says, proudly.
Kaia Hedlund recently came aboard as Chaminade's full-time athletic director, so Mahar is happily spending all of his time "focusing more of the details on basketball," he says.
The game has always been his true love.
He grew up in New York Cit,y where his father Buddy was the former head coach at Columbia. At one time, his father earned national coach of the year honors. Over the years, his father bounced around to other coaching jobs, and the younger Mahar finally got a chance to play for him.
"It was at Johnston State College in Vermont," he says.
And what was it like playing for his father?
"It was the hardest thing I ever had to do," he recalls. "He was a Bobby Knight kind of guy - really in your face. I've taken a different approach. I yell here and there, but it's more positive-based. Today's kids don't want to be yelled at as much."
At Chaminade, Coach Mahar does things his own way. His goal is all about bringing his team back into the winning limelight, while preferring to avoid the spotlight himself.
Most Recent Comment(s):