Christenson: 3 Years, 3 Titles

By
.(JavaScript must be enabled to view this email address)
Wednesday - May 25, 2011
|
Share

Del.icio.us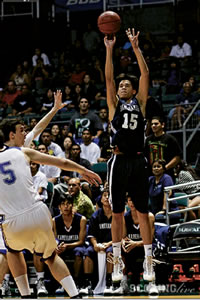 After graduation, Micah Christenson's hoop days are over. Photo courtesy Micah Christenson
Micah Christenson reminded me that when he was a young boy growing up in the Enchanted Lake section of Kailua that I inadvertently interrupted his practice sessions. He recalled that his dad, a former college basketball star at UH-Hilo, had set up a portable basket near the curb, and they would go outside to practice shooting.
"When you drove by, we had to stop for a moment to let you pass," Micah says.
I had forgotten about that memory until Micah brought it up during our conversation the other day. It's truly amazing how far that little boy who shot baskets in the street has come.
This Saturday night at the Blaisdell Arena, Micah will graduate from Kamehameha Schools as one of the most prolific athletes in recent Hawaii high school history. Over the past three years, he has led Kamehameha to two state high school boys basketball championships and one state high school boys volleyball championship.
He's been the State Player of the Year in basketball and the State Player of the Year in volleyball. He's also been the state tournament Most Valuable Player and First Team All-State in both sports, plus a high school All-American in volleyball. For three straight years, he played in the state title game in both sports - winning three titles and finishing runner-up three times. Few high school players in any era have had that kind of run.
But when I asked the 6-foot 5-inch senior to describe the greatest memory of his high school career, he ever-so-politely put the focus away from his accomplishments. "It's hard to distinguish (between the titles)," he says. "What I will most remember is the brotherhood between the teams, and all the great experiences with my team-mates."
After winning basketball titles as a sophomore and senior by averaging nearly 20 points and over 10 rebounds a game, Micah may have saved his best effort for last - in volleyball. In the recent state boys volleyball tournament, Kamehameha came from an unseeded slot and beat three previously-undefeated league champions to take the championship. In the titanic clash against defending champion and nationally-ranked Punahou in the finals, Micah, playing outside hitter, had an incredible 22 kills with no errors while hitting .500 on the night.
"It was amazing to win and to come together like that for our end-of-the-season push. It was an unreal feeling," he says. "It was a big game; I knew they would be looking to me, and I really wanted to get it for the guys."
That comment is a perfect example of Micah's self-lessness. He's always looking out for his teammates. And beyond high school, he'll put that characteristic to great use, as he's headed to USC on a volleyball scholarship. The Trojans say he will play the perfect position for unselfishness.
"I'm going to be the setter," he says.
A year ago, Micah was named Best Setter at the prestigious NORCECA Junior Championships in Canada, leading the United States team to the gold medal, just one year after being selected the youngest starting setter ever for any U.S. national team. This summer, he'll be playing for his Outrigger team as they compete at nationals in Minnesota, and then it's on to Ohio where he will train with the U.S. Junior National Team. He's expected to be selected to the final 12-man team that competes in the World Championships in Brazil in August.
So remembering that little boy shooting baskets with his dad in the street, I asked him if he'll miss basketball.
"I'll miss it," he says. "It was the first sport I was ever introduced to and I'll keep on loving it, but I knew once I got to high school that my future was in volleyball."
And what a future there is for one of Hawaii's all-time greats.
Congratulations, graduate!
Most Recent Comment(s):