Coach Mac Goes Camping

By
.(JavaScript must be enabled to view this email address)
Wednesday - June 17, 2009
|
Share

Del.icio.us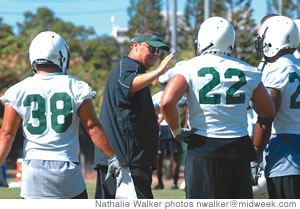 Coach Mac will be coaching local youngsters at his camp
If you ever get the chance to spend a few minutes with University of Hawaii football coach Greg McMackin, you'll truly count your blessings.
It doesn't take much time at all to sense Coach Mack's passion and enthusiasm - not only for the game, but for the university and for the state of Hawaii. And he loves to share that passion and enthusiasm with everyone he comes in contact with.
That's why these next couple of weeks are a great opportunity for up-and-coming football stars and their families. Coach Mack, along with the entire UH football staff, are in the midst of hosting their annual summer football camps - and there's still time to sign up, even if it's the last moment.
Last week (June 13-14), it was the Kids Camp with youngsters from age 5 to 12 getting to learn the feel of the game. This week (June 16-19), it's time for the Skills Camp, where young quarterbacks, receivers, running backs, defensive backs and linebackers between the ages of 13 and 17 get to learn the important nuances of the game. Then next week (June 22-24), it's the so-called Big Man Camp, where the Warrior staff work with teenage offensive and defensive linemen.
"We really stress fundamentals and technique," McMackin says. "It's a great chance for local players to work with our entire staff of coaches and with former Warrior players."
Not only do present and future high school stars get a firsthand chance to share in Coach Mack's passion and enthusiasm, but they begin to build the bonds that will help them all making important recruiting/college placement decisions down the road. In the world of college football recruiting, summer camps have become an important tool for college programs - whether those camps are located in Gainesville, Fla., Norman, Okla., Los Angeles or Honolulu, or on college football fields everywhere in between.
"Last year, we gave out 11 scholarship offers at our camp," McMackin says.
Of course, not every scholarship offered is a scholarship taken, but Coach Mack says that the University of Hawaii has a great success rate. "Eight-nine percent of those who committed decided to stay," he says. The reason for that is often because of the relationships that began with the summer camps.
"We get to build those relationships," he says. "(The campers) get to see how proud it is to be from Hawaii and to be a part of Hawaii football."
Stressing that local connection is key to the Warriors' future success, McMackin says.
"Our philosophy is that we recruit Hawaii first. Our kids are our future," he says. "This year, we emphasized that in our recruiting efforts. We went to all the high schools at least twice each to let the kids know that we care about them. This is our home, and if we want to be successful then this has to be our base."
The more Coach Mack talk about recruiting and about the opportunities presented by getting involved in the UH summer football camps, the more excited he gets.
"We lost nine starters before last year (his first year as head coach), and that forced us to scramble. We're going to be so much stronger this (upcoming) year," he says.
McMackin believes it starts with recruiting.
"Recruiting is so much fun for me," he says. "I love working with the kids and then getting into their homes and talking with them. I think besides Hawaii, our future is going toward the West - to (American) Samoa, to Western Samoa, Australia, New Zealand and Japan. If we can somehow pick up a few kids there, along with the great kids here, then we can be a top-20 team."
Then, the coach slows down for just a moment and thinks about the work that can be accomplished on the UH practice fields this month.
"We've got to start here," he says. "That's why we run these camps. The great kids of Hawaii are so important to us - they're our foundation."
For more information on the UH summer football camps, call the UH football office at 956-6508 or e-mail .(JavaScript must be enabled to view this email address).
Coach Mack has made the time to share his love of the game. The future is up to you.
Most Recent Comment(s):