Coach Sellitto Is Teaching Again

By
.(JavaScript must be enabled to view this email address)
Wednesday - March 09, 2011
|
Share

Del.icio.us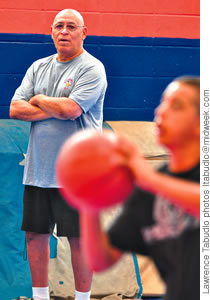 Tony the Tiger can still growl when the need arises
Gib Arnold jumped out of his SUV and hustled into the gymnasium. Inside, Tony Sellitto was already barking commands from the bench. Sounds like big-time college basketball, right? Not exactly. In this case, the players in the tiny Boys & Girls Club gym at Washington Middle School are between the ages of 10 and 13, and Arnold is there as a parent, while Sellitto is a volunteer coach.
The team is called the Rising Stars, and if some of their last names sound familiar to local sports fans, it's because they are.
There's Ashton Arnold, 12-year-old son of the UH head basketball coach; Garrison Gabriel, 13-year-old son of former UH quarterback Garrett Gabriel; Jace Smalley, 12-year-old son of former HPU star Tony Smalley, and Kason Smith, 13, and his brother Kajin, 10, sons of former
HPU star Kawika Smith. Also on the team are George Gilmore's son Caleb and Scott Kato's son Kameron, along with other outstanding players such as Dayon Watanabe, Josh Burnett and Marcus Shaver.
"Mostly all of their dads played for me, and all of them were good!" says the 72-year-old Sellitto, who retired this year from HPU after a stellar career that saw him coach the SeaWarriors to a national title and Maryknoll School to multiple state high school championships. "And as good as their dads were, so are their sons!"
In the tiny, cramped gym, Sellitto still has that Tony the Tiger glare when a player doesn't get back on defense. And during a timeout, he enthusiastically gives pointers to youngsters who already show a great passion for the game.
Meanwhile, Garrett Gabriel sits in the front row with his wife and family, where he sometimes shouts out instructions to his own son. "Skip pass it!" he says to Garrison, who has the ball on the sidelines in front of him. And when the youngster gets the ball back, Garrett hollers "penetrate ... yes, that's the way!"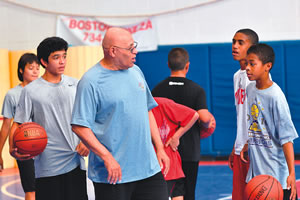 Coach Sellitto gives pointers to his students
Garrison makes a nice crossover dribble and drives to the basket for another layup. It's amazing to watch him because he looks so much like his dad, who was an all-state basketball player for Sellitto at Maryknoll.
"Most of these parents are there for every game and every practice," Sellitto says. "They really care."
Gib Arnold played on an all-star team that Sellitto coached back in the 1980s, and the two have kept close ties over the years. Arnold's son Ashton is technically very sound, and he shows his skills by pump-faking on a shot, and then makes a pretty pass to the open man for another Rising Star basket.
Later, Kawika Smith's son Kason makes a huge block and grabs a tough rebound, Garrison follows with a breakaway layup and Arnold launches a big three. By the time the game is over, the Rising Stars have won impressively, 40-14.
Sellitto says he's enjoying working with the kids two or three days a week and is thinking about starting a club team. "I got a call from another one of my former players the other day, and he wants to know what he has to do to get his kid on the team." Sellitto flashes a big grin as he gets the jersey from Ashton Arnold, and then shakes Gib's hand as they head out the door to another game crosstown.
"These kids are great," he says."What a way to retire!"
Most Recent Comment(s):