D-Low: Hawaii's Greatest Hoopster

By
.(JavaScript must be enabled to view this email address)
Wednesday - February 28, 2007
|
Share

Del.icio.us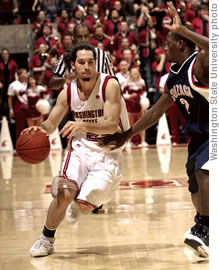 D-Low has led Washington State to a Top
20 ranking
Being called "the greatest" at anything is very subjective. But when it comes to Derrick Low, you can throw subjectivity out the window.
Simply put, and this couldn't be more objective, Low is the greatest Hawaii born-and-raised basketball player in the history of the state.
Consider these facts: * Low is the first and only four-time Interscholastic League of Honolulu player of the year.
* Low was the state's player of the year and Hawaii's Mr. Basketball three straight years while leading Iolani to three straight state titles. He was also the MVP of all three state tournaments.
* Low was a starter as a freshman at Washington State, an NCAA Division I school in the powerful Pac-10 conference.
* After also starting as sophomore, Low, now a junior, is the leading scorer on a Cougar team that is ranked in the top 10 in the nation and contending for the Pac-10 conference title.
These are objective facts. But for Low, a 6-foot-2-inch shooting guard from Honolulu, the best may be yet to come. That's because this month marks the start of basketball's Holy Grail - the NCAA tournament, known as March Madness.
"I haven't been there before, but that's the ultimate goal," Low says via phone from his dorm room in Pullman, Wash.
For a local boy who grew up shooting baskets on the Honolulu playgrounds with his father, Kenneth, it's a dream come true.
"It's been a long journey," Low says. "It means a lot that my family and friends came to see me (on TV) back in Hawaii."
Not only are fans from the islands watching Low, but so are basketball fans around the nation. Low has become a constant highlight feature on ESPN SportsCenter. "Seeing yourself on SportsCenter and having the coach talk about you on Cold Pizza, that's cool," he says. "But you've got to stay humble."
That's because Washington State is still very much in the conference title hunt this week. The Cougars play host to national powerhouses UCLA and USC in their final two home games of the season March 1 and 3. The games can be seen on cable TV on FoxSportsNet.
"I didn't expect this, but it's been what we've been shooting for," Low says.
It's been quite a turnaround since Low arrived in Pullman two years ago a fresh-faced kid from Honolulu. In his first two seasons, the Cougars struggled and Low broke a bone in his right foot both seasons, missing several games in the process.
"I stayed positive," he says. Low also changed his look. He grew his hair long and started sporting a moustache and goatee. His flowing locks make him easy to spot when the camera finds him dashing down the court for an acrobatic lay-up or hitting a big 3-pointer in crunch-time.
"This year, I'm healthy. That's made a big difference," he says.
It's also made a big difference that he's been able to step up his game from his days as a local high school star, something few other local players have been able to accomplish. At least, not on a stage this large.
"The pace is so much faster here," he says. "In high school, you could get away with little mistakes. But here the athletic level is so high, you can't afford to make mistakes."
And this season, mistakes have been few and far between for Derrick Low, the product of Iolani School, the star of Washington State University, and the greatest basketball player in the history of the state of Hawaii.
No argument.
Most Recent Comment(s):