Dad, Daughter Take On The Channel

By
.(JavaScript must be enabled to view this email address)
Wednesday - August 13, 2008
|
Share

Del.icio.us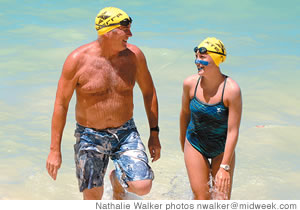 Mike and Mackenzie Miller at Kailua Beach
Mackenzie Miller was in the ocean and her dad Mike was watching from the Kailua Bay shoreline when I interviewed him.
"She's swimming 13,000 meters today (or about 13 miles)," Mike tells me. "The usual route is back and forth in Kailua Bay, around Flat Island and Lanikai."
It's the last long-distance Hawaii swim for the Millers before they fly off to the biggest open ocean swim of their lives - crossing the English Channel.
Mike and Mackenzie hope to accomplish that feat before the end of August. "They give us a window of opportunity. Our window is the last week of August," Mike says.
If they are successful in crossing the 21 miles between Shakespeare Beach in Dover, England, to somewhere between Wissant and Cap Griz Nez, France, they could make history.
"We've researched and researched and we can't find another father-daughter who have crossed the Channel together," he says.
Mike, 54, and Mackenzie, 18, know the water. He's a financial adviser and she's a senior-to-be at Le Jardin Academy. They reside in Kailua with wife/mom Laura Soller and 14-year-old sister/daughter Kate. Mackenzie has been swimming since an early age for Aulea Swim Club and recently for her high school team. Mike is a former collegiate swimmer at Morehead State in Kentucky and an open ocean veteran.
He crossed the Kaiwi Channel from Molokai to Oahu in 1979 and he's also finished the grueling around-Manhattan and Catalina swims. The Manhattan, Catalina and English Channel swims are considered "the triple crown of open ocean swimming," he says. "Being from Kentucky, I know a thing or two about triple crowns!"
The Millers' journey to England started not as a swimming venture, but as a lesson in history. "I wanted my daughter to be interested in veterans, to understand survivors of attacks and World War II," says Mike, a member of the Pearl Harbor Memorial Fund Advisory Board. "What we're doing is a swim in the park considering what they went through."
He is asking potential donors to go to their website at http://www.mikenmacswim.org to follow their swimming saga and to consider making donations to the fund and to the Xterra foundation charity. "Our motto is that we want to touch lives for people between the ages 5 and 95."
For the past several months, they've focused on one goal - crossing the sometimes-treacherous and very cold waters of the English Channel.
"The water is 12 to 14 degrees colder than what we've trained in," he says. And because the channel is often around 60 degrees, he and Mackenzie spent three weeks training in the chilly waters of San Francisco Bay. "Mackenzie thought her arms were on fire the first time she went in (at Aquatic Park near Fisherman's Wharf.)"
But San Francisco is also where the Millers eventually qualified for the channel swim. "You have to prove you can swim six straight hours in waters at or below 61 degrees," Mike says. Swimmers don't wear wetsuits. "A wetsuit to an open water swimmer is like steroids to a baseball player - an unfair advantage - so we don't do that."
He says the biggest challenges will be swimming at night (Mackenzie hasn't experienced that before) and just "keeping going," he says. And it could be tough on Laura, the wife and mother, who will be trailing along in one of two escort boats. "The question is: Can a mom watch her daughter vomit for two hours and not want to rescue her?"
All those questions will be answered when the father/daughter swimming duo hits the waters off Dover later this month. "We will start together, but each swimmer works individually," he says. "We both swim about the same pace, but conditions will dictate how we do in the water. It should take between 11 and 14 hours."
Who will touch France first, I ask?
"I have no idea," he says, laughing. And that's not the real point anyway. "It's been an incredible bonding experience. I can't even tell you how much."
For Mike and Mackenzie Miller, the adventure of a lifetime is just a few strokes away.

UPDATE: Recently, we featured the Waianae Boxing Club. I'm happy to report that "Papa Fred" Pereira's club won five gold medals at the recent Junior Golden Gloves in Las Vegas. Waianae boxers winning championship belts include: Autumn Pereira, 12 (138-pound division); Shayson Soares, 13 (138-pound division); Jada Pereira, 13 (90-pound division); Dido Rodriguez, 14 (106-pound division); and Jonathon Dinong, 15 (145-pound division).
Congratulations to each of them.
Most Recent Comment(s):