Dean's Golf Dream Is Coming True

By
.(JavaScript must be enabled to view this email address)
Wednesday - September 06, 2006
|
Share

Del.icio.us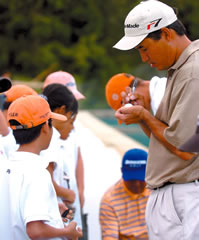 Wilson signed balls for students in
Casey Nakama's junior golf school at
Olomana last December
Don Wilson says his phone has been ringing off the hook the past few weeks. And for good reason. Don's son has become the biggest sports celebrity from Kaneohe since Bryan Clay won a silver medal at the Olympics.
"I hope I don't have to pay a big phone bill," says Don, laughing.
Don has reason to feel giddy. His son is pro golfer Dean Wilson, who had struggled to gain recognition on the PGA Tour the past few years. But on Sunday, Aug. 13, Dean won the biggest tournament of his life, and in the process became only the third Hawaii-born golfer to win a PGA event. And since Ted Makalena and David Ishii both won their events in the Islands (at the Hawaiian Open), Dean, at age 36, actually became the first Hawaii-born pro to win on the Mainland.
"It has been quite a battle," Dean told golf reporters after winning The International tournament in Castle Rock, Colo., in a playoff against Ryder Cup captain Tom Lehman. "It seems I heard a lot of people saying it can't be done, you can't beat those guys (from the Mainland)."
When he knocked home a birdie putt on the second extra hole, it set off a huge celebration of family and friends at Don and Grace Wilson's home near the Kaneohe Bay Yacht Club.
"We're so proud," says Don. "Dean struggled for a long while, but each year he's risen higher, and now he's at the top, as far as I'm concerned."
The International victory made sure of that, awarding Dean the $990,000 winner's share, and pushing him toward the $2 million earnings mark this season.
"That means a two-year exemption and a place at the Mercedes Championships on Maui," Don says.
The season-opening tournament of champions happens at Kapalua the first week of January.
Dean, who makes his home in Las Vegas now, has always come home to Hawaii for the Christmas holidays.
"Every year we get together with the other families on our street and we have a bunch of sports tournaments," says Don. "We call it the Okihiro Family Tournament, made up of baseball, bowling and golf. Everybody wants to play with Dean now."
It's a far cry from the days when Dean played soccer and baseball and then gave them up to pursue his dream as a golfer. Don says that his wife Grace was a big influence, but eventually the youngster played a lot of rounds with both his mom and dad.
"He used to go across the street and hit balls at Bay View," Don says. "The pro then was Vernon Silva, and he really helped Dean a lot."
After Dean graduated from Castle High School, he walked on to the golf team at BYU-Hawaii in Laie. A year later, he transferred to BYU-Provo, where he teamed up to win a WAC Championship with future Masters champ Mike Weir.
For years, that was Dean's claim to fame. He was always introduced as Weir's teammate from BYU. Dean played on the Asian, Canadian and Australian tour after graduating from BYU in the early '90s. Then he moved up to the Japan tour, where he made a name for himself after winning four tournaments.
"He's a big celebrity there," Don says. "My wife's family is (originally) from Japan, so Dean is distantly related to many people there. He had a huge following when he played there."
Dean eventually won his PGA card, only to lose it a year later. When he got back on the prestigious tour the next year, he made the front pages when he played with Annika Sorenstam, the LPGA superstar who (before Michelle Wie did it) made history by playing in a PGA event, the first to do so since the legendary Babe Didrickson Zaharias.
"Dean was such a gentleman and people noticed that," Don recalls. "When I saw him interviewed with Annika, I burst into tears. When you raise a kid, you always wonder. And then I realized, 'Wow, maybe we did something right.'"
Both Don and Grace Wilson can make that claim proudly. Their son Dean is the toast of Kaneohe and the entire state of Hawaii.
Most Recent Comment(s):