Fast Times At Hawaii Baptist

By
.(JavaScript must be enabled to view this email address)
Wednesday - March 30, 2005
|
Share

Del.icio.us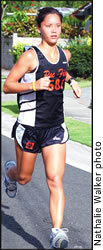 HBA's Lauren Ho
Is there just one word that best describes the ability and potential of Hawaii Baptist long-distance runner Lauren Ho?
Not really. "She's awesome," says a rival track coach, who can't say enough about this rising high school star. "Fast, strong, powerfully built. Because of her history as a sprinter (before she turned to long distances), she could eventually break Victoria Chang's records."
You probably remember that Chang is the former Punahou track and cross country star who dominated the high school scene a few years ago, winning a national title before starring for Stanford University. Chang's strengths were her tremendous endurance and her devastating finishing kick.
Ho has shown these same traits ever since she started running for Duncan Macdonald's track club in Kailua "somewhere around third or fourth grade," she recalls.
By the time she was an eighthgrader competing for the Pac-Five track team, Ho was a triple winner in the ILH intermediate championships, winning the 100- and 200-meter sprints, plus the long jump.
"I actually wanted to be on the distance team," she remembers, "but we do a test at the beginning of the year to determine what our best events are, and the coaches told me to go into sprinting.
"I did so reluctantly, but it worked out well."
By the ninth grade, Ho had convinced her coaches that her true love was running longer races, and she won the state title in the 1,500 meters as a freshman.
Since then, she has won the ILH cross country championship twice, plus the state cross country title this year as a junior.
She's also the defending ILH title holder in the 3,000 meters, and the two-time defending conference champ in the 1,500.
And to further attest to her flexibility as an athlete, she also won first-team all-ILH soccer honors as a sophomore.)
"Sprinting earlier in my track career really helped my distance running later on," Ho tells me. "Distance runners traditionally only have one way of running. I have the knowledge of what it's like to be a sprinter (and) that gives me more than one way to run a race."
She proved that recently in an ILH meet when she skipped her usual 1,500-3,000 meter double, by running in the 400- and 800-meter races. She won both, despite being "boxed in during the final lap of the 800," she says.
She was able to use her powerful strength to help her out of the jam, and then sprinted her way to the victory.
Watching her run, as I've done on several occasions, you can't help but notice her muscular strength. She's almost built more like a cross-training triathlete than a typical long distance runner.
"I do a lot of cross training and I started lifting (weights) during the off-season," she says.
"I (also) have a healthy diet and watch what I eat."
Positive nutrition is more than just a casual interest for Ho. She's considering a career as a nutritionist.
"I've always had a real interest in it," she says. "I read a lot of articles about nutrition. I eat a lot of fruit, order off the healthy menu, and try to be an example."
On race days, her pre-race diet consists of "Power Bars and crackers," she says. "I don't eat very much."
But nutrition and training are only part of her success story. "It's finding the right plan and a belief in myself that I can do it," she says. "It's also how others around me believe in me."
That support system, which includes her coaches, teammates, friends and family, makes her a strong role model in the classroom, too. Her grade point average at Hawaii Baptist is a solid 3.7, or almost straight A's.
"I'd like to go on to study (and run competitively) at the University of Washington," she says. "My brother Brett and sister Tarah, live up there."
But there's plenty of time — and plenty of races — between now and then. For Ho, the focus is on winning, and if some records fall along the way, then so be it.
"I'd love to break the records," she says. "With the proper encouragement and training, anything can happen."
So, one word to describe the great potential and awesome ability of Lauren Ho?
Here's one:
Limitless.
Most Recent Comment(s):