Fast Times For Joshua Villoria

By
.(JavaScript must be enabled to view this email address)
Wednesday - May 07, 2008
|
Share

Del.icio.us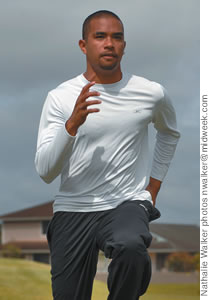 Villoria: running for a friend
When Joshua Villoria came flying across the finish line at the Punahou Relays with his fist pumping and a huge smile across his face, he not only secured the title of Hawaii's Fastest Human, but he also knew his life was back on track.
"People told me if I hadn't started celebrating so early, I would have run it faster and maybe got the record," Villoria says. Still, his winning time of 10.95 seconds in Hawaii's premier 100 meter dash - the event record is 10.67 seconds - means Villoria has begun to turn his life around.
A little more than a year ago, the former state high school sprint champion from Farrington was battling depression and weight gain and had lost his competitive drive.
"I had no desire to train at all," he recalls. "I had forgotten my dream to try for the Olympics. I really had no desire in life."
Villoria's problems began the year after he won the OIA and HHSAA titles in the 100 meter dash in the spring of 2005. He matriculated from Farrington to Azusa-Pacific in Southern California - the same school that produced Olympic medal-ist and former Castle High great Bryan Clay - and he red-shirted that first year of college track.
"It was hard, the transition from high school to college," he says. "Very frustrating."
And it got worse. "My best friend, Janssen West, passed away," Villoria, now 20, says. West's death at just 18 years old happened on New Year's Day 2006. "He was like my backbone; we were the best of friends. When God took him, I couldn't concentrate on school or track or anything."
Villoria dropped out of college after that first year and came back home to Royal Kunia. "I was not in shape. I was depressed. I ate, ate, ate. I gained 50 pounds, from 160 to 210," he says. "I look back now and I say, 'What a waste.'"
It took his pastor to help put things in perspective and help him turn his life around.
"He told me that Janssen wouldn't agree with what I was doing with my life," Villoria says. "He said that Janssen loved to watch me run; that it brought to joy to him. When he said that, it hit me hard."
Villoria says he decided that he would start running again. Ironically, the 2007 version of the Hawaii's Fastest Human race was only weeks away.
"I only had a month to train," Villoria recalls. "I dropped like 15 pounds and made the finals, and I think I finished sixth."
More importantly, Villoria's will to live and dream and make something of himself had been rekindled.
"The dream to train came back," he says. "I found out that I didn't like to lose."
Not only did Villoria begin to train again, he practically became obsessed with it. "I went at it seven days a week. I would not rest," he says. "I went doubledays for a whole year."
He realizes now that he may have over-trained. "I strained a hamstring a few weeks ago. I only started running again a week before (the 2008 version of Hawaii's Fastest Human)," he says. "I really didn't run a great race, but I still won. I think I can run faster."
Villoria hopes to get his next chance to compete at a meet at UH Cooke Field Saturday (May 10). Then, he has his sights set on the World Championships next year. "I'm getting back in better shape every day," he says.
He says he owes it all to his best friend. "(Janssen's) birthday was April 25 - the day between the trials and the finals at the Punahou Relays. I dedicated the race to him," Villoria says.
A little spiritual push from his pastor also helped.
"If it wasn't for God, I would-n't be where I am right now," Villoria says. "My dream to go to the Olympics one day is back."
Most Recent Comment(s):