Feeling 'Hair'ried Over Long Locks

By
.(JavaScript must be enabled to view this email address)
Wednesday - November 19, 2008
|
Share

Del.icio.us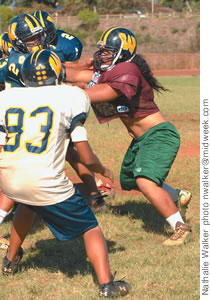 High schoolers all over the state are copying their football elders
Call me old-fashioned, but I am not a strong proponent of the new fashion statement in football - long hair that pours out of the back of helmets.
It's everywhere!
I watched a high school game on television the other night, and several players had flowing locks spewing out over their shoulder pads. At University of Hawaii games, it seems like the entire Warrior offensive line is into the long hair thing. And the National Football League - often known as the No Fun League - apparently has no problem with long hair. When owners were asked to vote on a new rule to ban long hair this past off-season, they voted it down.
I'm not sure exactly when the latest fad began, but Troy Polamalu of the Pittsburgh Steelers certainly popularized it when he played in the Super Bowl a couple of years back. It was indeed a sight to behold as Polamalu fiercely lined up at safety with his long hair freely flowing and then swooped in for the kill against opposing running backs, receivers and quarterbacks.
Somehow, it just didn't seem wrong for a fierce defensive player to use long hair as a means of intimidation. In fact, it was actually exciting to watch.
With no rules in place to stop this freedom of expression, the Kansas City Chiefs' Larry Johnson took it upon himself to make a statement: When Polamalu made an interception, Johnson tackled him by pulling him down by his hair!
That also prompted the Chiefs to propose a long hair ban, not the cutting of the hair, just requiring players to tuck it up inside their helmet. With the players' union squawking about players'rights, the owners rejected the proposal.
Soon other notable NFL players followed Polamalu's lead - among them Larry Fitzgerald, Steve Jackson, Al Harris, Rashean Mathis and many others. Their role modeling caused players at all the levels below them, from college to high school to youth leagues, to follow suit.
That's the part I don't like - kids are following the lead of players they see on TV.
Here's the problem I have with it - and I'm sure I'll be called a dinosaur by some, and a curmudgeon by others - it's potentially unsanitary, it's unbecoming of a disciplined football team, and it's just downright unsightly.
Before you think I can't understand the latest craze, hold on a minute! I grew up in the long hair days of the late 1960s and early '70s when hair was such a big thing, they named a musical after it.
But as much as I admired the freedom of my USC classmates to show off their long locks (and I had a huge moustache and lengthy sideburns, too), I remember that the line stopped once you crossed over to the playing field. When I played college baseball, I recall one of the primary rules of head coach Rod Dedeaux: no facial hair, no sideburns, no long hair of any kind.
On the first day of practice, we all showed up clean-cut. "A team that looks good plays good" - I think that's what the motto was.
Now, I'm not suggesting that every football team in America make a run to the barbershop or hair salon, but I do think this is a fad that's gone way overboard. Yes, you can make an argument that the length of someone's hair has no bearing on their ability to run, pass, catch, block or tackle. Or, in the case of Manny Ramirez, to smash baseballs out of the park. I also understand the importance of showing off one's physical assets. And it's true, I'm envious. (My huge bald spot is available for advertising space.)
But I recall something my dad, a former college football player and high school coach, used to say over and over: "Look like a ballplayer!"
He meant it from the way an athlete in any sport - whether it's football or baseball or tennis or whatever - puts on his or her uniform. And the hair is part of the uniform. (It really is; you can look it up in the rule book.)
Putting on the uniform is an act of responsibility. It's like dressing for a job interview. Would you show up at a job interview with your shirttail un-tucked and your hair flying around in all directions? Doubtful.
So, bottom line, tuck it back under the helmet. Be proud that you have it, for now. But do us old-fashioned curmudgeons a favor and show off your gorgeous long hair after the game.
Most Recent Comment(s):