Fifty Times Across The Channel

By
.(JavaScript must be enabled to view this email address)
Wednesday - October 03, 2007
|
Share

Del.icio.us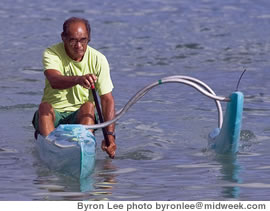 Nappy Napoleon's crew for his 50th Molokai Hoe crossing will be family members
Legendary. That's the best word to describe the great Nappy Napoleon.
For the past five decades, the 66-year-old steersman extraordinaire has been jettisoning across the treacherous Kaiwi Channel in the 40-mile Molokai Hoe outrigger canoe race.
This year, the remarkable Napoleon will take part in his 50th race! That's right - 50th!
"Time fly, yeah?" Napoleon says, laughing when I remind him of this incredible feat.
This year's race is set for Sunday, Oct. 7, and what makes it all the more special for Nappy is that he will be steering his own family - all Napoleons, part of a nine-man Anuenue crew.
"The best part is that I'm going with my five sons," Napoleon says. Joining him on this special journey will be sons Joey, David, Jonah and the twins Darryn and Aaron. Also on the nine-man crew will be grandsons Sepa and Josh and his son's stepson Koa.
"I'm wearing ear plugs because I know they're going to be telling me 'Dad, do this, do that,'" Napoleon says, laughing again. "I usually like to do what I like to do."
As you can tell, the affable Napoleon enjoys life as much as he enjoys being out on the water.
"I love to paddle," he says. "Anything in the water I love to do."
The Molokai Hoe was only 6 years old (it started in 1952) when Joseph Napoleon (aka Nappy) joined its growing ranks. It was on Oct. 19, 1958 that the 17-year-old surfer and paddler hooked up with another legend, Blue Makua, as well as Dutchy Kino, Randy Chun, Barron Postmus, Ruben Makua, James Koko, Conrad Canha and Archie Ka'au'ai, as a member of the Waikiki Surf Club crew. Napoleon has long since credited Makua for bringing out his soon-to-be-remarkable skills in the sport.
Only six of the eight koa canoes that started that 1958 race finished on a day that the seas were considered especially rough. The crossing took a grueling six hours and 32 minutes, but Nappy, Blue and their crew won the race by a whopping 12 minutes.
Since that time, Napoleon has led crews to the overall "Open" title five more times, from 1961 to 1973. He has won numerous age division titles. As you might imagine, a lot has changed over the years, with the best overall winning time dropping now to less than five hours. "The paddles are much lighter, the canoes are longer and there's so much fiberglass now," says Napoleon.
But it's also a sport that has taken the affable steersman around the world. "I've been pretty lucky. Paddling has taken me all over," he says, including Australia, Tahiti, New Zealand, Canada, Fiji, Samoa and Tonga, among other countries.
Napoleon, who grew up around Kapahulu, now lives in Palolo Valley with his wife of 42 years, Anona.
"I met her at the beach. She was a good surfer and paddler, too," he says.
Now, Anona will watch her husband, sons and grandsons as they reach this incredible milestone together.
"It's going to be choice, paddling with all my family," Napoleon says. "All my sons are very good paddlers. I've paddled with three of them before, but not all of them (at the same time). This is my 50th, so we decided to do it together."
And after this crossing, how many more, I ask. Any thoughts of retirement?
"I still got that fire," he says. "I'm going to keep going."
Nothing, it seems, can stop Nappy Napoleon from crossing the channel that he has come to know better than just about anyone else in the world.
Happy 50th Molokai Hoe, Nappy! Hawaii and the entire world of canoe paddling salute you on this remarkable achievement!
Most Recent Comment(s):