Fighting To Save Kahuku High

By
.(JavaScript must be enabled to view this email address)
Wednesday - June 11, 2008
|
Share

Del.icio.us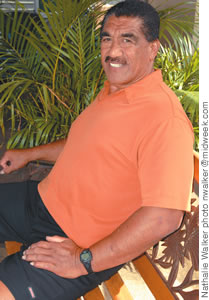 Junior Ah-You is concerned that his alma mater may be shut down
I received a forwarded e-mail the other day that practically had my eyes bulging out. (No, it wasn't one of those e-mails).
The e-mail I received was forwarded from former All-American and former NFL star Junior Ah-You and was about the possibility of Kahuku High School closing. "What?!" I said to myself.
Is someone actually considering closing one of the most successful schools in the state? I couldn't believe what I was reading. So, I called Junior.
"I can't imagine this island without Kahuku High School," he tells me. "It would just kill the community."
He's right. When I think of Kahuku, I think of caravans of fans honking their horns and screaming in ecstasy after the Red Raiders won the first statewide state championship football game a few years ago. That scene has played itself out several times since then. I also think of record-breaking players like Mark Atuaia and Inoke Funaki and Mulivai Pula and many, many others, including Junior himself, who was Red Raider star way back in the 1960s.
Junior's e-mail came out of a concern brought on by a bill passed this year by the state Legislature. The bill, which sets up a commission to review the potential of school closings around the state -including successful high schools like Kahuku - is now on the governor's desk and could be signed or vetoed. (See Larry Price's column in this issue of MidWeek for more on the bill.)
"I don't know why we were even in the discussion," Junior says. "To be put on that list is not good."
Other Oahu complex schools listed include Kaiser, Farrington, Castle, Kailua, Kalaheo and Waialua. All these high schools have experienced some form of enrollment loss in recent years. Schools from the Neighbor Islands also were mentioned, including Laupahoehoe on the Big Island, where enrollment in the high school has dipped to only a couple hundred students.
I'm no longer in politics, so I'm not going to debate the merits of a proposed commission, but like Junior Ah-You, I can attest to the powerful impact that a high school and a sports program - and all the other programs involved in the school - have on a community. At Kahuku, for example, the high school is their identity.
"This is the place where the community comes together," he says.
This past week, Junior and other community leaders asked questions of their local state legislators and hoped for the right answers. "There are so many people who don't know what's happening," he says. "I don't want to sit back and do nothing and let this run over us."
And so the discussion continues. Are declining enrollments the No. 1 criteria in deciding whether a school should close its doors? Are budget concerns more important than tradition and the affect on a community? Do sports play a factor? Should they?
So many questions. And the answers may not always be as black-and-white as whether or not Junior's favorite football team crossed the goal line. Sometimes, the answers can depend on who's sitting on the commission.
And so Junior and many others keep asking. And they also keep telling anyone who will listen- "Red Raiders for Life. Red Raiders for Life."
The same expression with a different team is going on around many Hawaii communities these days. Thanks to whoever forwarded me Junior's e-mail. Now, it's time to call my legislator. And perhaps the governor's office.
Most Recent Comment(s):