Finale For A Season Of Controversy

By
.(JavaScript must be enabled to view this email address)
Wednesday - October 17, 2007
|
Share

Del.icio.us
The OIA football playoffs begin this weekend in a season that will be known for two words - controversy and parity.
First, the controversy. Two conference games were cancelled early in the season after an on-field brawl broke out between players from Campbell and Aiea near the end of a hotly contested game. The coaches from both teams responded quickly and broke things up, but the league had to step in and make a decision about how to penalize the athletes who had either been involved directly or had left the bench area. League officials made the tough decision to cancel each school's next conference game.
That decision didn't sit well with some folks, who wondered why other schools had to suffer because of the poor sports-manship of their league rivals. But the message the league made by its quick and decisive action was clear: Fight and everyone suffers.
As the season moved on, it appeared obvious that the message had made a positive impact. To both Campbell's and Aiea's credit, both schools displayed classy behavior the rest of the season. Hopefully, a life lesson was learned, as well.
Life lessons also have been the topic of discussion at state champion Kahuku. When long-time wrestling coach Reggie Torres took over the head football coaching position a year ago, he instilled a disciplinary and academic code similar to the successful (albeit controversial) methods showcased in the popular movie Coach Carter.
Like the Samuel Jackson character in the movie, Coach Torres was much maligned and criticized by some segments of his community. Things got so heated that the school cancelled practice one day after several players staged a boycott to protest how the program was being run.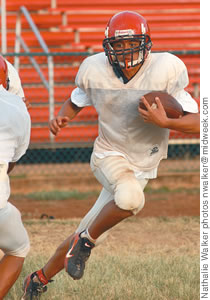 Kahuku's Jordan Kamae: back on the practice field
The most disheartening aspect of the Kahuku situation is that it appears the major gripes against Torres were way out of bounds. Players complained about not having enough fun and being unable to display their emotions. Some fans complained that participation was overshadowing victory margin.
From an outside observer's perspective, it appeared ludicrous that players and community members could dictate how a coach coaches his team. One would hope that the community rallies around its team in a positive manner, and learns the lesson that football is not bigger than everything else: that academics and commitment and responsibility mean a whole lot more in life than how many 67-7 victories or how many touchdown dances you have.
At other schools around the OIA, they've learned that. At Mililani, where Darnell Arceneaux has the Trojans playing great team football, and at Kapolei, where Darren Hernandez has instilled a tremendous pride in being a Hurricane, and at other schools all over the league, there is a tremendous growth in parity.
For example, the OIA Red West had one of the most exciting and well-balanced title races in recent years. Waianae, Leilehua, Mililani, Aiea and Kapolei all earned spots in the state's top 10 rankings at one time or another during the season. The best thing about their matchups was that you could never call any of those teams the solid favorite each week - that's how close and unpredictable their contests were.
From Kaimuki to Kalaheo, from Anuenue to Waipahu, teams showed outstanding growth in their performance level.
And that is the very essence of athletic competition - to play the games with tremendous competitive fire, to stand up for your teammates through thick and thin and to do so respectfully, and to learn lessons both on the field and off the field from all of the hard-working coaches.
We're all looking forward to a fantastic OIA playoff, followed by a state championship tournament to remember. Hopefully, the lessons learned this 2007 season won't soon be forgotten.
Most Recent Comment(s):