Ford Finds Sanctuary In The Pool

By
.(JavaScript must be enabled to view this email address)
Wednesday - July 01, 2009
|
Share

Del.icio.us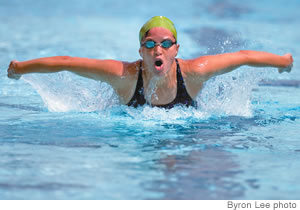 June Ford is getting faster as she gets older
When Kailua's June Ford touched the finish line to win her first event at the recent Hawaii International Masters Swim Meet at the beautiful swim complex at Central Oahu Regional Park, I kidded her that it was no wonder she won—June was her month, I said. It truly was.
Entered in eight different events - four individual and four relays - Ford won them all. And she won virtually all of them in convincing fashion, sometimes even outswimming competitors much younger than she.
Ford, 47, continues to be one of the top masters' swimmers around - despite being on the road 10 months a year and swimming in just one meet a year. But in the past couple of decades, when she has time to be in the water, Ford has set numerous national and world records in whatever her designated age group.
"I actually got faster after college," she says.
Ford was an all-American swimmer for the University of Hawaii in the 1980s. She credits veteran coach Al Minn for her outstanding growth in the pool.
"He has been the most influential person in my swimming career," she says.
It was Minn who guided her to achieve NCAA national qualifying status and eventually a spot in the U.S. Olympic Trials in 1984. "That was an emotional meet. You'll remember that 1980 was the boycott, so 1984 was the first chance for many of these swimmers to get into the Olympics. I couldn't believe I was there."
Ford didn't earn a spot on the U.S team, but under Minn's tutelage she blossomed into an outstanding swimmer once she got to the designated masters'age of 25. In her first masters'meet ever, she won five events and set five national records. Later, she broke world marks in the 200 butterfly, 400 freestyle and 400 individual medley, and set many other records, too.
But her influence on the world would actually come outside the pool. Nine years ago, Ford began traveling the globe as an ordained minister with Word of Life ministries. Her work has taken her to 70 different countries, where she works with other pastors while teaching, preaching and ministering.
The amazing thing is not just how many miles she's flown or how many countries she's visited, but specifically where she's gone and just how dangerous some of those trips have been.
"I've been to 20 of the 25 poorest countries in the world," she says. "I've seen poverty and war and terrible conditions. Some of the places are very dangerous - Sri Lanka, Nepal, Rwanda, Sierra Leone, Uganda and Tanzania. In Sri Lanka, suicide bombs went off within three or four days of the exact spot of where I was," she says. "I stayed in one place where men with A-K 47s protected our house."
One of her scariest moments came in northern China. "I was arrested in China for preaching in an underground church," she says. "I was supposed to meet with one of the leaders involved at Tiananmen Square, but that had to be cancelled." Instead, she was interrogated for six hours before being released.
Another cancellation occurred on the island of Papua in Indonesia. "Too many Christians were being abducted and beheaded, and teachers were being killed," she says.
Despite the danger, she says she relishes her work.
She often gives motivational speeches that are not necessarily faith-based, as she did this past spring to senior athletes at UH. "I told them to dream big, that there's a big world out there, and you can make a difference. That's a global message."
She says being an outstanding swimmer has helped her in her travels and in her trials around the globe. "Being a world-class athlete trains you perfectly for mission work," she says. "The hard work, the sacrifice, the discipline, the toughness of mind makes a real difference when you're on a 36-hour train trip or working till midnight. I've had to sleep with tarantulas at my head or rats in my bed. There are no five-star hotels where I'm going."
No wonder getting back in the pool is truly a sanctuary for June Ford.
Most Recent Comment(s):