From China To Hawaii With A Dream

By
.(JavaScript must be enabled to view this email address)
Wednesday - April 23, 2008
|
Share

Del.icio.us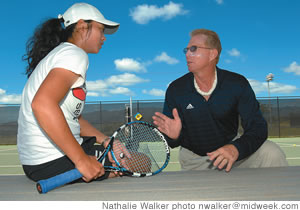 Elwen Li is a 'coach's dream,' says BYU-Hawaii head coach David Porter
Every once in a while, a story comes along about an athlete that almost seems to be too good to be true. But this story is true, and the athlete in the story is incredible.
Her name is Elwen Li, a red-shirt freshmen women's tennis player at BYU-Hawaii. How incredible is Li, you ask? Well, she speaks five languages: English, German, Cantonese, Mandarin and Chengdunese.
The native of Chengdu in the Sichuan province of China has a 3.95 grade point average - the only blip on her straight-A report card is a B-plus she received in an art class.
Li is also the best player in the nation in NCAA Division II. She won the ITA singles and doubles national championship in Mobile, Ala., earlier this year and was selected as the Most Valuable Player at the Hawaiian Airlines PacWest Conference Championships in St. George, Utah, earlier this month. Both of her championship singles matches in Utah ended 6-0, 6-0 despite that she was playing on a slightly injured knee.
Leading up to the NCAA national championships next month in Houston, Li is undefeated this year in both singles and doubles, and is the undisputed No. 1-ranked player in the division. Her goal is to lead defending national champion BYU-Hawaii to yet another national title.
"I'm pretty confident with our team," she says. "I think we can win nationals if we continue to play well."
"She's a coach's dream," says Seasider head coach David Porter. "All she does is study and play tennis."
But what makes her story all the more incredible is why she is playing college tennis. You see, Li appeared ticketed for a professional career almost from day one. Her father was a former national volleyball player in China and she was so good as a junior tennis player there that her parents sent to her Germany for high school because that's where the top junior players in the world played.
By the time she completed her high school education, Li was the No. 2-ranked player in her age group in all of Europe. Interestingly enough, the No. 1 player, Magdalena Rybarikova of Slovakia, signed a professional contract and is now already one of the top players on the pro circuit.
Li, however, didn't follow that lead - she had other concerns, much bigger and more life-threatening. Back in China, Li's mother was diagnosed with bone cancer. The teenage tennis sensation went home.
"She decided she was going to give up her dream of playing professionally," Porter says. "She decided she wanted to become a doctor and find an answer."
Porter met Li when he was coaching clinics on a trip to China.
"She came up to me and she spoke English," he recalls. He listened to her story. "To know what she wanted at 17 or 18 years old, to know what she wanted with her life, that was pretty unusual."
When Porter went back to Laie, the young tennis star with a much bigger mission in life e-mailed him. She wanted to come to BYU-Hawaii to study. Her first year in Laie, she red-shirted, making certain that her English improved and that her academics came first.
Teammates kidded her that she rarely left her room, she studied that much. "She works very hard," says Porter.
And when you ask Li about her mother, she smiles and says, "She's doing well." She doesn't talk about it much, but her silence on the subject doesn't hide how much she's determined to follow through on her mission.
"My dad says, 'Use your mind, use your head, be confident,' " she says.
In tennis, and more importantly, in life, Li believes in that strong personal code. She truly is making a difference, and perhaps through hard work and perseverance and absolute focus, she will one day find a cure.
For Elwen Li, nothing is impossible - on the court and off. And that's incredible.
Most Recent Comment(s):