From Crusader To Race Car-sader

By
.(JavaScript must be enabled to view this email address)
Wednesday - December 28, 2005
|
Share

Del.icio.us
In December 2002, Bobby George fired the opening salvo in the State High School Championship football game. His four-yard touchdown pass gave St. Louis the lead for good as the Crusaders zoomed past the Castle Knights to win the state title.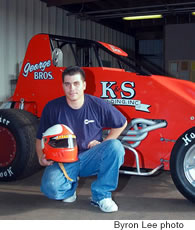 For Bobby George, racing has taken
the place of football
This December, George was miles away from the football field, but he is still winning trophies. This time in the sport of car racing. On Saturday night, Dec. 17, on the one-quarter mile dirt oval at Hawaii Motor Speedway, the 21-year-old former St. Louis quarterback zoomed past the competition to win the Mini-Modified Season Ending Championship.
"It's an awesome feeling, a real adrenaline rush," George says. "Unlike football, it's not a team sport. You're out there by yourself. You're in control of something that is really out of control."
But George is not actually alone.
His father, Bobby George Sr., is his mentor and role model.
"My dad is always with me," the younger George says. "He raced here locally and turned that into a professional career on the Mainland. I'm hoping to do the same thing."
The elder George raced in California's SCRA circuit in the 1980s, but he eventually moved his family back to the islands before his son entered high school.
"I grew up around the track," his son says. "I remember racing go-karts from the time I was 7 years old. I gave it up for awhile because of football."
On the gridiron, young Bobby George Jr. excelled. He was named first team all-state quarterback as a senior in high school, but his dreams of a collegiate football career came to a quick end.
"I went to Chaffey College in Rancho Cucamonga, Calif.," he says. "I got a little bit homesick. Plus, I wanted to try the racing thing. It's really been with me my whole life."
At first, he says, it was tough getting over football, but that feeling didn't last too long.
"I still miss it a little bit, but I'm getting over that now," he says. "Racing took its place."
Every night after he finishes his work at an auto body shop in Aiea, George hustles over to his uncle's welding shop in Halawa. That's where father and son work on the cars they race on Saturday nights. The younger George started his racing career in the smaller classes. Besides winning the season-ending race in the orange No. 77 car, he also won the Mid-Season Championship this year in the Mini-Modified class and finished second in the overall season point total.
"I don't get nervous in racing like football," he says. "Before a big game during the football season, you're pretty much nervous the entire week. In racing, I don't feel nervous until I strap into the seat. Then, it's just fun. It's not near as much pressure as football."
The only racing pressure George feels now is the impending future of Hawaii Motor Speedway. The track that is so popular with hundreds of local race car enthusiasts is hoping to get an extension on its lease at Campbell Industrial Park. If not, and if no new track is built soon, the future of the sport is in jeopardy.
"Right now, nobody knows anything," George says. "Hopefully, they can get their two-year extension before they try to build a new track. We're just hoping it won't close."
In the meantime, George is approaching the racing off-season with a full throttle attitude.
"My dad and I are building a new car, a faster car," he says. The football star-turned-racing star plans to move up to Econo Sprint Class next year.
Whether George will be racing that new car in amateur races here or in professional races on the Mainland, only time will tell. But one thing is certain: Bobby George will be going at it full speed.
Most Recent Comment(s):